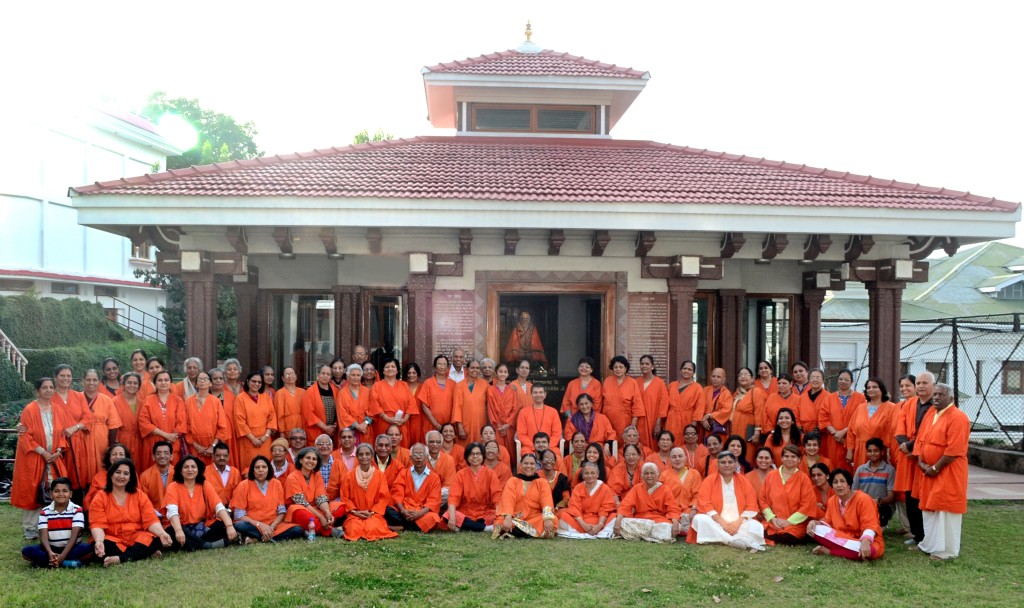 On the evening of 26th March a cool, gentle breeze wafted down from the snowcapped Dauladhar range. A perfect setting for the over ninety participants gathered in the Satsang room at Tapovan Asharm. In her welcome address at the inauguration, the camp coordinator, Lekha Dhir, welcomed participants to the family camp led by Swami Prakarshananda. She urged them to make the most of their time in this scared and blessed space, the eternal abode of our beloved Gurudev.
From here on, for the next six days Swami Prakarshananda was in charge. He set the tone, by giving each delegate, including the youngest (nine year old), an ochre robe. Thus, initiating them to temporary sannyas during the camp; symbolically to live the disciplined life of a sannyasi.
The morningsbegan with chanting, followed by a calming meditation session. To maintain this innertranquility Swamiji prescribed a dose of maunam(silence)through breakfast, till the next session -the study of Manah Shodanam. Swamiji succinctly explained the problems of the mind and pointed tothe means to overcome them. During the talks, Swamiji evoked in the hearts of the participants a desire to offer gratitude at the feet of the Guru and the Paduka Puja that followed left many emotional and moist eyes. Such was the love and devotion they experienced.It was then lunch and a short, welcome siesta break!
The refreshed campers regrouped for Shiv Parvathi Vivaha Prasang by the Upacharya Mrs. Prarthna Saran. Prarthnaji captivated listeners with her command and in depth knowledge of the text. She brought alive every word of the chaupai and would surely have made Pujya Gurudev proud of His student! It was not all work and no play. Come 5pm Swamiji was ready for some exercise,every evening to a different destination – awalk in the woods, visit to CORD, Kapil Muni Guha. The aarti at the Samadhi and temple were never missed.
Exhausted physically, but mentally ready, it was relaxing time – with bhajans, story-telling and informal satsang till the dinner gong sounded. Post dinner, groups could be seen in animated conversation, meditative mode, star gazingor just looking at thetwinkling lights on the mountain side. Six days whizzed past. It was time to gives thanks and bid goodbye hoping to meet again for another such elevating experience.