1. Balavihar Sessions
Sunday Balavihar classes are conducted on zoom platform for about 40 minutes. Children enjoy these classes where in the first 20 minutes Balavihar Sevika teaches the children Geeta chanting and bhajans. The last 20minutes taken by Pujya Swami Raghuveerananda ji by their attention through stories with a vision and message and about the safety measures which has to be taken during these present times. Swamiji also elaborates on importance of prayer and cultivates the habit in children to be grateful to all the frontline warriors, milkman, vegetables and grocery vendors. He also talks to them about taking nutritious diet which increases immunity, much needed in the present scenario.
2. Seva by Study group members
Our study group members offered seva for couple of hours daily in the scorching heat at a gated society. They advice and educate people about the necessity of staying at home and also provide them with hand sanitizer to clean their hands and only then are allowed entry inside the society.
3. CHYK Seva
Our Chyks distributed lunch and dinner packets daily to the poor people and also to the police officers who are posted at the villages with minimum resources available. It started with a donation of Rs5000 by our chyk member due to whom the motivation has now started for the mother's of the Chyks and also Devi group member started cooking at home to feed the poor and needy.

4. Balavihar Talent challenge
Balavihar children were given one skill development activity each day. The children learnt to make flower bouquets, stitch a leaf plate, Dance, cooking and making of Ugadi pachadi, making mango leaf toranas, Rangoli,
Making thank you placards for frontline workers of covid19, making table mats and name boards, making of masks, offering bouquet thanking parents for sending them to Chinmaya Balavihar, awareness on stay home stay safe through a dance and dressing up of themselves in a funny way using vegetables and fruits etc.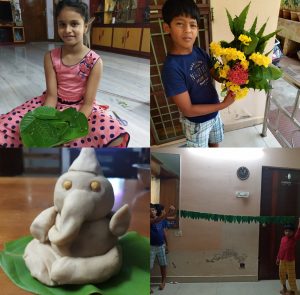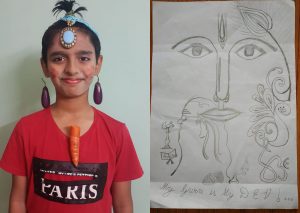 5. Talk for the executives of Cement Corporation of India.
An enlightening talk was given by Pujya Swami Raghuveerananda ji on zoom platform to the executives of Cement Corporation of India along with their families. Swamiji talked to them on facing fear in which he beautifully explained to them about how to walk from known to unknown with the inspiration only from within. If you are fearless you will be able to face challenges, accept it and also succeed in it. He also listed some points and requests on how to spend a quality time with family during lockdown.