On the clear bright morning of Saturday, May 5th, Chinmaya Mission Houston conducted its annual Gita chanting competition to commemorate the 102nd birth anniversary of Pujya Gurudev Swami Chinmayananda. This year's selection was Chapter 16 "Daivasurasampad Vibhaga Yoga' and 87 children assembled in Chinmaya Prabha Smriti Hall at 8:30 am in readiness to participate in this event.    This event was preceded by months of preparation by students assisted by a team of dedicated teachers.
Sreedevi Gundamaraju, the Gita chanting coordinator, inaugurated the Competition welcoming all and invoking Pujya Gurudev's blessings. She then invited Sri Gaurang Nanavaty to address the competing children and audience. His inspiring and encouraging words reminded everyone assembled in the Smriti Hall that the very participation of children was the true gift for our Pujya Gurudev. Just by preparing for this special day with months of chanting the Gita Ch. 16, and showing up to participate, each child was already a winner.  He pointed out, "Children have a wonderful capacity to learn chanting; though their understanding may not be complete now, what they have learned will stay with them and be an inspiration to them as they advance into adulthood."
The children were enrolled in four groups divided according to their Bala Vihar grades. Judgement criteria included pronunciation, memory, chanting style, and overall presentation. Children also had to provide the meaning for chosen verses or words specific to the group.
In every group, the children awed the judges and listeners with their beautiful chanting and explanation. Once the competition which spanned over three and half hours was over, all children gathered in the Smriti Hall. Manasa Kethireddipalli, a lead Balavihar teacher, had the children play a very creative version of the game 'Hot Potato' where they recited verses that contained the Sanskrit words they got. It was such a special treat for parents and the BalaVihar teachers gathered in the Smriti Hall to watch the enthusiasm of the children as they played this game!
Then as the results were announced, Brahmacharini Shweta Chaitanya lovingly commended all children as winners and congratulated them for their amazing and inspiring performance. The specific prize winners in each group were then announced:
Group 1 (KG to Grade 2)
First place – Ahana Rao
Second place –  Shyam Jayant
Third place – Cira Parikh and Samarth Srivatsan
 Group 2 (Grades 3-5)
First place – Pranav Sriram
Second place –  Prakruti Shenoy
Third place – Harini Ganesh, Diya Parikh and Gayatri Thatte
 Group 3 (Grades 6-8)
First place – Meghana Prabhakaran
Second place – Aditi Chaubal
Third place – Ayush Manoj
 Group 4 (Grades 9-12)
First place – Bhavya Kethireddipalli
Second place – Saaketh Rao
Third place – Rohit Narra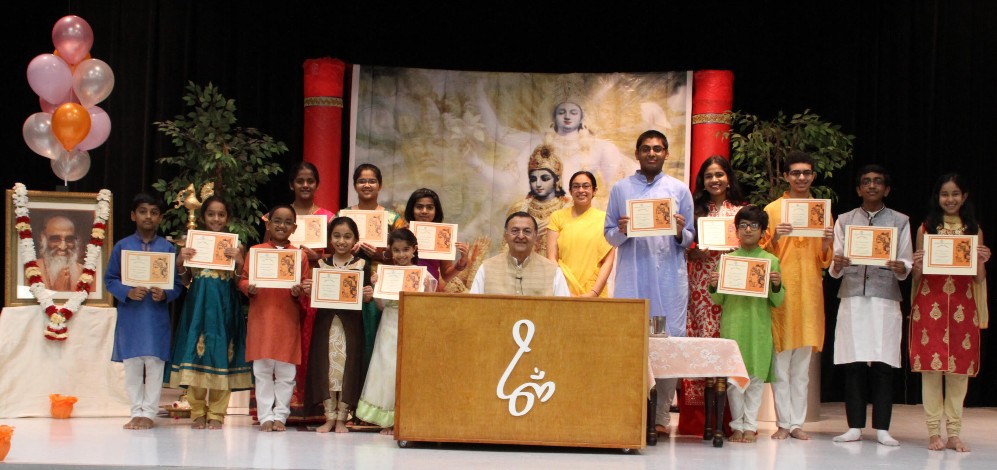 As this truly inspirational annual ritual drew to a close, everyone who were blessed to witness the competition were reminded yet again that children's lives are enriched in no small measure by drawing close to the glorious all-encompassing divine Bhagavad Gita.
Tradition steeped in wisdom, diffused with fun is the norm at Chinmaya Mission Houston, located at Chinmaya Prabha, 10353, Synott Road, Sugar Land, TX-77498. For more information, visit www.chinmayahouston.org or call Jay Deshmukh 832 541 0059.