Brni Vishakha Chaitanya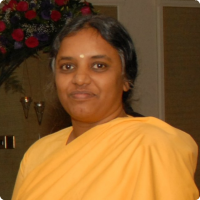 Chinmaya Mission Singapore
Chinmaya Seva Centre

67 Tessensohn Road ( Opposite To Civil Service Club, Serangoon )
Nearest Farrer Park M R T Station, Use Exit B.
217667
Singapore , Singapore

+65-63967949

vishakhacm7@gmail.com
Brni Vishakha Chaitanya completed her vedanta course under Swami Advaitananda in the year 2010. She is currently serving in Singapore centre. She has a graduation in English Literature and is a post graduate in Philosophy. A good singer of bhajans, she is an ardent devotee of Lord Krishna.
Upcoming Events
Sorry, no events found!