Swami Bodhatmananda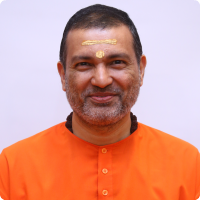 Tara Cultural Trust
Sandeepany Sadhanalaya
Saki Vihar Road
Powai
Mumbai
400072
Maharashtra , India

+91-22-2803 5100

soham.brahma@gmail.com
Swamiji was introduced to various saints and sages in his early childhood. His spiritual call came when he read Pujya Gurudev Swami Chinmayananda's commentary on the Bhagavad Gita. Not long thereafter, he decided to dedicate his life to the study of scriptures and to the service of humanity. He served for five years at Chinmaya Mission Orlando (1996-2000) in various capacities and subsequently participated in Chinmaya Mission's 50th anniversary celebrations. In 2002 he joined Sandeepany Sadhanalaya Mumbai where he studied Vedanta under the grace and guidance of Pujya Guruji Swami Tejomayanandaji and the tutelage of Swami Ishwaranandaji. In 2004, he was appointed at Sandeepany San Jose, Chinmaya Mission San Jose (CMSJ) where he had been conducting discourses on Vedanta in and around the San Francisco Bay Area. During his tenure at CMSJ, he has conducted numerous Satsangs, Vedanta Classes, Jnana Yagnas, camps, and retreats all over the United States, Canada and India.
     He has a loving personality, sense of humor, and intense passion for the study of Vedanta as well as mastery over scriptures. His unique style of teaching and imparting the knowledge of the scriptures through a systematic approach has provided practical instructions for seekers in daily life and has brought transformation to many.
Swami Bodhatmananda was the resident Acharya of the 16th Residential Vedanta Course at Sandeepany Sadhanalaya, Mumbai, India and will be continuing as the resident Acharya of the 17th Residential Vedanta Course in 2017.
Upcoming Events
Sorry, no events found!