News


To understand anything is to find in it something which is our own.
-Swami Chinmayananda
Archival News/Other News
Tree Plantation
Dated : 2018/10/08

---


Whenever children need some freedom to do what they want, like to have someone listen to what they say, and desire to have a person who is ever willing to share their experience and knowledge with them , they  have this tendency  to run towards their grandparents, who through their unconditional love, , humour and patience, , share stories, anecdotes, values, etc.
Likewise, whenever, we face oppressive heat, we run under the shade provided by trees, Today someone is sitting under the shade of a tree because someone planted the tree a long time ago.
Taking the analogy further, Allenhouse Public School, Jhansi in association with Chinmaya Mission, Jhansi, decided to celebrate a day where the seeds of wisdom are sown in young minds so that they grow up and give shade to many. Towards this, the grandparents of the children were invited, and tree plantation was planned on 8th October 2018.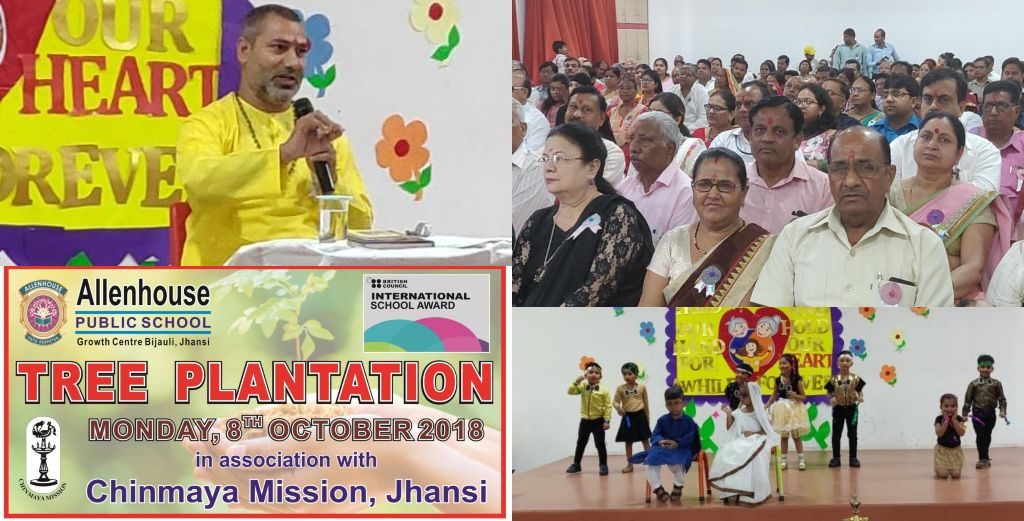 Pujya Brahmachari Raghavendra Chaithanya Ji, Chinmaya Mission, Jhansi, had kindly consented to grace the occasion with his divine presence and also share profound wisdom.
The programme started at 10.30 AM on the 8th of October 2018 by lighting the lamp.
Pujya Brahmachari Raghavendra Chaithanyaji invoked the blessings of Guruji, addressed the group and shared on what Chinmayananda always used to say
"Children are not vessels to be filled, but lamps to be lit" "Children are not careless, but are cared less ".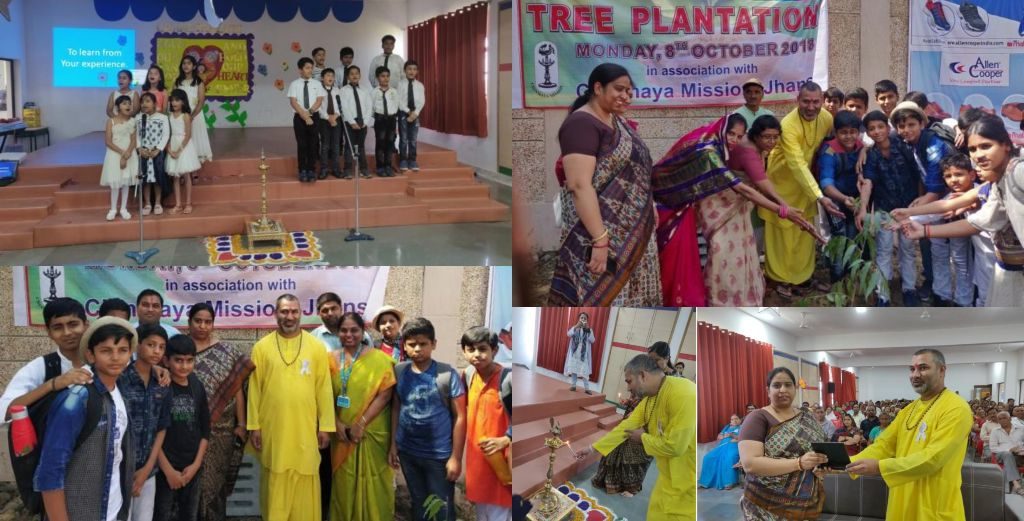 Everyone present was informed of how different aspects of our ancient culture, in terms of moral, spiritual, family and social values; can enrich the lives of children, and how they can move ahead in life, by focussing on core values.
Subsequently, the children performed a skit and showcased the values they had learnt from their grandparents, recited poems to show their love and affection, prepared greeting cards, sang songs, etc.
The programme ended with children planting tree saplings of guava, mango, neem, ashoka, jack fruit, jamoon, etc. around the school.
---
Chinmaya Mission Boston Charity Walk for publication
Dated : 2018/09/30

---

The annual Chinmaya Mission Boston Charity Walk and picnic was held on Sept 30, 2018 at the Great Brook State Farm in Carlisle. It was well attended with over 190 participants. Participants included 4-year-olds, an 84-year-old, and everything in between. The event kicked off with a prayer by Dr. Shashiji followed by stretching exercises. The 3-mile walk/run was flagged off promptly after that. This was followed by a picnic with activities that included face painting, frisbee, and ball games that were enjoyed by everyone present. With generous contribution from the CMB Community, over twelve thousand dollars was raised. Funds collected will be distributed between a global and a local organization/cause.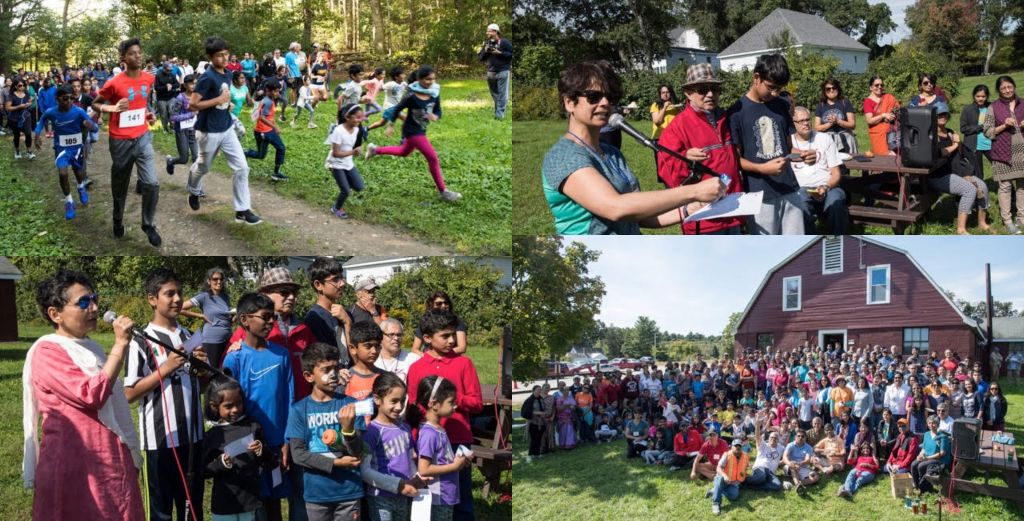 Chinmaya Organization for Rural Development (CORD) and Merrimack valley gas disaster relief fund, have been chosen this year. CORD is an India-based non-profit organization to help the disadvantaged transform their lives through self-help programs. In operation since 1985, under the leadership of Dr. Kshama Metre, who was recognized with the prestigious Padma Shri Award in 2008 by the Government of India. CORD supports over 700 villages in Himachal Pradesh, Andhra Pradesh, Orissa, Tamil Nadu and Sri Lanka, providing help to over 150,000 villagers Merrimack Valley Gas Disaster Relief fund was chosen for local charity this year. The fund was launched to provide short-term assistance for things like shelter, food and health services as thousands of residents in Lawrence, Andover and North Andover who have been without gas since Sept. 13 cope with the circumstances until the restoration of service.
---
Diwali was celebrated in Chinmaya Mission Houston
Dated : 2018/11/04

---

The grand autumnal festival of Diwali, arguably the biggest celebration among Indians the world over, was celebrated in Chinmaya Mission Houston with vibrance and devotion on Sunday, November 4, 2018.
Against the exquisitely decorated backdrop of Lord Rama and Sita Devi, and the row of ashtalakshmi murtis, Sri Ganesh Satyanarayana, Sri Saumyakasi Sivalaya priest, lead the puja with each family seated in the hall following the rituals step by step with their own idols. This was both personal and especially empowering for the children who immediately got involved, and participated with enthusiasm throughout the puja.
"Bring out the divinity in you", was the message Shri Gaurang Nanavaty had for those present. Just like gardens flourish by constant weeding, he said let us allow ourselves to grow, by persistently removing the negativity within us. Wishes from the acharyas on this occasion were to light the diyas within our hearts, be alert to destroy the Ravana within us, and keep the light of knowledge continuously shining within.

In the five days of the rituals of Diwali is a beautifully packaged message worth reflecting upon every day. On the first day the homes are cleaned and new things are bought. On the second, houses are decorated with diyas and rangoli. The third day, Goddess Lakshmi is worshipped. This is followed by the celebration of the New Year. On the fifth day siblings pray for each other's well-being and visit upon each other.  In the microcosmic realm of an individual, our journey to an elevated existence begins with first purging our minds of the clutter. Then we bring in things of value that will equip us to get better at our endeavors. With renewed exuberance and optimism we pray for the light to continuously kindle this spirit. Without the wealth of knowledge and a balanced state of mind, all the worldly joys are evasive to us; hence we seek the grace of MahaLakshmi, the supreme goddess of wealth, for an abundance of knowledge and all worldly comforts to make our progress possible. And lastly, while we work zealously towards our personal goals, the last two days of Diwali remind us to expand our circle of influence, and spread the joy of love and look out for as many lives as we can.
As the glance traverses down the neatly seated aisles of devotees in the hall, the familiar eye would spot some young parents; themselves balavihar children not too long back, passing on the tradition to their little ones. The new brahmacharini Shweta Chaitanya herself was a bala vihar student at this center. As philosopher Rumi said, the lamps are different but the light is the same. Under the guidance of Shri Gaurang and Shri Darshana Nanavaty a dynamic group of volunteers strive to keep the rich philosophy and knowledge of the hindu scriptures relevant and applicable and of interest to all generations and all kinds of seekers.

For more information on Chinmaya Mission Houston and its activities visit www.chinmayahouston.org or reach Jay Deshmukh 832-541-0059 or or Bharati Sutaria 281-933-0233 or better still, stop by Chinmaya Prabha, 10353, Synott Road, Sugar Land, TX-77498.
---
Integrated Personality Development Camp at CM Hosur
Dated : 2018/10/27

---

Hari Om!
Chinmaya Mission – Hosur
Integrated Personality Development Camp for Sri Bharathi Vidyalaya Matriculation School
Potential to Perform
With the blessings of Pujya Gurudev, Pujya Guruji, Pujya Mukhya Swamiji, Chinmaya Mission Hosur conducted  IPDC (Integrated Personality Development Camp)  for class 9,10,11,12 of Sri Bharathi Vidyalaya Matriculation School students.
Swami Krishnathmanandaji facilitated the camp at Chinmaya Upasana with the theme POTENTIAL TO PERFORM.
It was a two-day camp & was held on 19, 20 & 26,27th of October 2018 for class  9,10 & class 11,12 respectively.
This is the first time in 5 years the students of Sri Bharati Vidyalaya School attend the IPD camp.
The camp was inaugurated traditionally by lighting the lamp by Swamiji, staff & student leaders.
The sessions given below were conducted by Swamiji & sevaks Smt.Vijaya, Smt.Suganya, Smt. Rajeswari & Smt.Seetha, Smt. Vaidehi. The sessions sowed the seeds of Values in student's mind.
Day 1
Ice breaking & grouping
Questionnaire- Everyone has POTENTIAL
Sharpen the instruments
Know Your Instruments – KYI
Being aware of senses
How we abuse our senses
How our senses deceive us
Tower building
Day 2
Communication
Search within
Mind – Emotional unfoldment
identify within
Poisons within – Hatred, Fear, Jealousy
Overcoming Hatred by Forgiveness
Overcoming Fear by Trust
Overcoming Jealousy by Appreciation
Intellectual unfoldment
Differentiated thinking
The sessions were in the form of activities, games, discussion & learning happened in these ways.
Both the students and the facilitators enjoyed the camp.
Certificates for all the participants were handed over to the staff representative from the school.
---
Kanchipuram District level Chanting Competition by CM Sriperumbudur
Dated : 2018/10/28

---

Chinmaya Mission Sriperumbudur conducted Kanchipuram District level
Chinmaya Chanting Competition on 28th oct 2018. Twenty schools participated in this Competition. We conducted Bhagavat Gita 18th chapter and Kandhar Anubhoothi which is the tamil text. Here, most of the people scared of Sanskrit but now its slowly changing because of Bhagavath Gita. All the school supporting us very well.
 Our chief guest Prasanna Harishyam(zonal co-ordinator of chennai gita chanting competition)& Arunachalam ji, Tamaraipakkam Sevak honoured our judges and encouraged the winners by giving their blessings.
        Our CHYK students showcassed the importance of Bhagavath Gita by skit. They cooled down the participants by Krishna Bajans and Dance.
            After the programme we arranged lunch for the participants.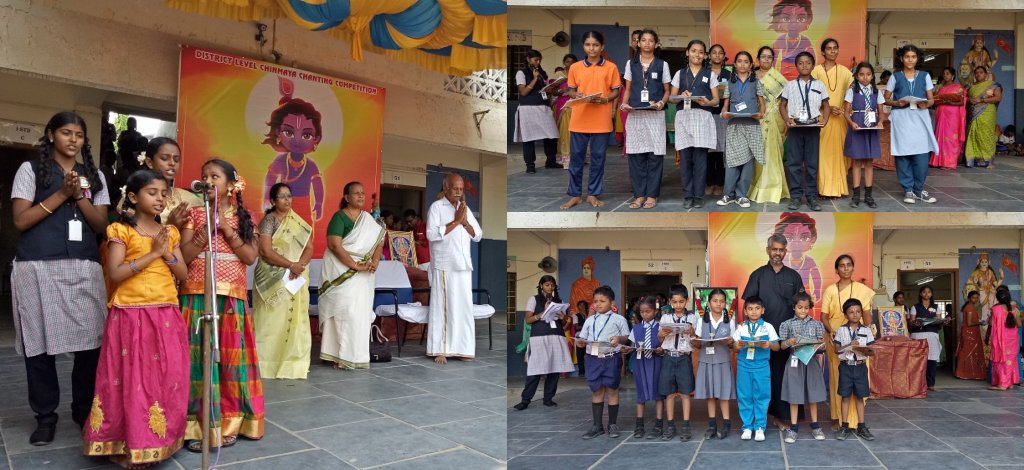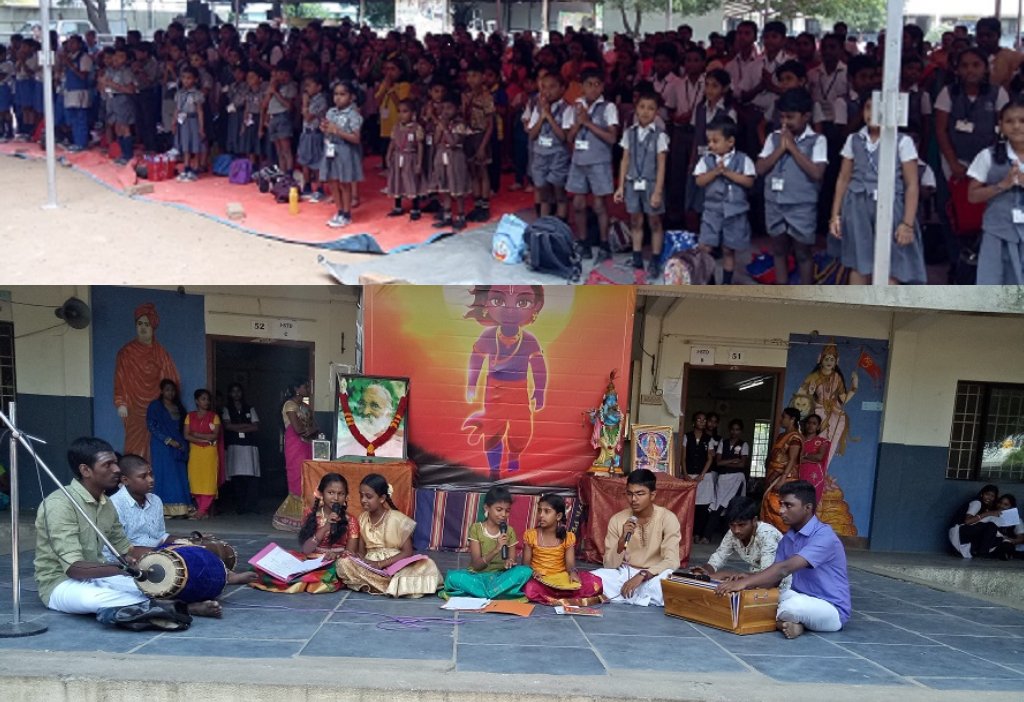 ---
Divya Shakti Retreat at CM London (Canada)
Dated : 2018/10/07

---

Chinmaya Mission London (Canada) was honoured to host the 6th international Divya Shakti Retreat from October 5-7, 2018 on "Finding YourSelf" guided by Vivekji and Vliasiniji. 72 Devis registered for the Retreat with an equal representation from USA and Canada. The Retreat was held at the newly acquired Ashram, Chinmaya Hanuman.
Vivekji is the Deputy Director of Chinmaya Mission Yuva Kendra West and currently serves Chinmaya Mission Niagara and Chinmaya Mission Pittsburgh as well as other satellite centres including London. Vivekji in his usual dynamic style expounded on Adi Sankaracharya's 'Nirvana(Atma) Shatakam' keeping the audience spellbound and engaged. The Theme of Finding YourSelf was unfolded through the verses of this most profound text making it relatable and meaningful
Vilasiniji is one of the founding members of Chinmaya Mission Washington Regional Centre and serves as the Regional Bala Vihar Director of CMWRC. Vilasiniji in her usual style through endearing stories shared the Science of Happiness with ease, natural wisdom and compassion. The Devis appreciated her smiling presence and guidance during the Meditation and Yoga Nidra sessions as well as the interactive sessions where Devis gained insights on facing challenging situations in their daily lives.
The Devis started their day at 7 am with Yogasanas and Meditation followed by discourses and discussions led by Vivekji and Vilasiniji. The schedule was balanced between quiet time for contemplation, games and craft activities specifically designed to the theme of Finding YourSelf. The Devis were impressed by the serene atmosphere of the Ashram, hospitality, freshly cooked meals on site and the selfless Seva by the devas and youth at the centre. All the Devis left feeling inspired and rejuvenated. Devi study groups were formed subsequently transforming this event to a movement. Chinmaya Mission London is grateful for the privileged opportunity to host the Retreat, meet the Devis from other centres and for the guidance and blessings of Vivekji and Vilasiniji.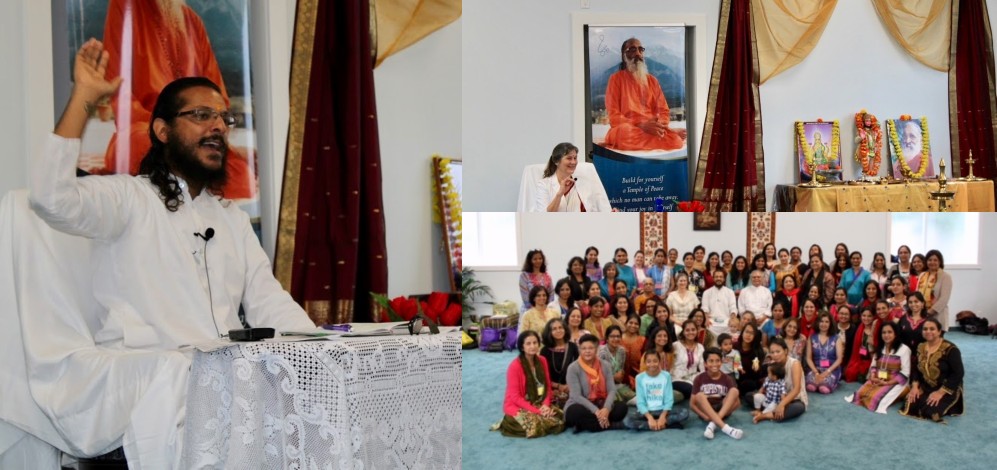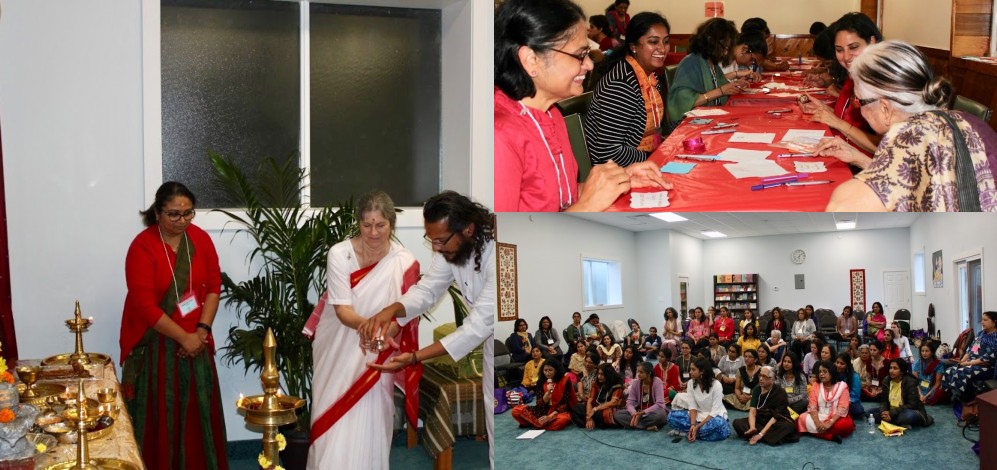 ---
Respectful shraddhanjali to Nambiar Amma
Dated : 2018/11/03

---

Swamins, Brahmacharins and Members of Chinmaya Mission Worldwide
Hari Om!
With regret, we inform you about the passing away of our beloved Nambiar Amma, at age 97, early this morning, Friday November 3rd, 2018. Smt. Leela Nambiar, a pillar of the Mission, was a founder Trustee of Central Chinmaya Mission Trust.
A key figure in all Mission activities, Nambiar Amma helped establish the education movement of Chinmaya Mission, that initially put down roots in Chennai. She was Honorary Treasurer for the Chinmaya Vidyalayas, Chennai for many decades.
Nambiar Amma was the publisher of Tapovan Prasad, the international magazine of Chinmaya Mission, for the last fifty years. Periodically she also took on the responsibility of the editor and nurtured the magazine through the years.
Sarveshwara Dhyana Nilayam in Thamaraipakkam, near Chennai, took shape under her careful guidance. Her house was the hub of many mission activities in the seventies and eighties.
Most importantly, she was one of the most dedicated devotees of Pujya Gurudev, Swami Chinmayananada. She served and hosted him in Guru Niketan, her family home, Chennai, from 1963-1993.
Her unwavering faith and surrender to God and Guru, with a Serve All Attitude, has made her unforgettable. She will be greatly missed. With her passing away, a whole era of Chinmaya Mission seems to have receded into the past.
We offer prayers for her peaceful passing to the Lord and for granting strength to the family, in this hour of loss. May she ever remain in His loving grace and care.
Our respectful Shraddhanjali to Amma.
At His Feet,
Swami Swaroopananda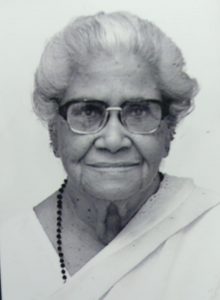 ---
Activities during Oct 2018 at CM Bengaluru
Dated : 2018/10/31

---

Jnana Yajna by Pujya Brn Vasumana Chaitanya
Pujya Brn Vasumana Chaitanya of Shivamogga centre conducted a Jnana Yajna on Bhagawan Adi Shankara's Maneesha Panchakam in Chinmaya Vidyalaya, Koramangala from 30/09/2018 to 07/10/2018. The Yajna was inaugurated by Sri Purandhara Sharma, president of the Mission. Pujya Vasumanaji beautifully explained the existence of only one absolute Truth that cannot be divided and it is only Self knowledge that can remove the darkness of ignorance just as the entire plural world of dream vanishes on waking. The entire visible world is nothing but appearance superimposed on the ultimate Truth just as the ocean waves have no independent existence other than water. The Self which is all pervading and eternal beyond the limitations of time, space & vastu is the material, instrumental and efficient cause for the entire pluralistic universe. A person who has understood and experienced this truth transcends all duality. This clarity brings forth the oneness of the entire universe both at the macro and microcosmic levels where all duality vanishes removing all man-made barriers upholding the Advaita concept.
The Yajna was very well attended.
Upanishad Yajna by Pujya Swami Swaroopananda
Pujya Swami Swaroopananda, Global Head of Chinmaya Mission conducted Upanishat Yajna in English on Ishavasya Upanishat at Mangala Mantapa, NMKRV College for Women, Jayanagar from 24th to 30th October, 2018. The Yajna was inaugurated by Sri G N Seshadri, Trustee of the Mission with Dr M K Panduranga Setty, president of R V Trust presiding in the presence of Sri Purandhara Sharma, President of the Mission.
Pujya Swamiji laid foundation to the text explaining that Ishavasya Upanishat is considered as the foundation for Vedantic study and forms the basis for Bhagavad Geeta. Our true nature which is infinite happiness pervades the entire universe and is beyond the perception by the senses. Our culture looks at every creation as embodiment of the Lord visualizing oneness in the entire world of plurality. This vision of oneness is the essence of the Upanishat. This is the only path to peace and happiness where all war and enmity ends. When one sees this vision of oneness all limitations cease to exist with the understanding that nothing belongs to the individual allowing the individual to enjoy the fruits of karma without any complaint and greed acquiring morally what he needs and share the excess with society. When one works without greed success without stress is sure. The real knowledge is understanding that the world is illusory and withdraw the mind in meditation abiding in the Truth. One needs to perform duties without any selfish motive to exhaust all vasanas; only then actions will not be able bind the individual. A realised Master works in the outer world for Lokasangraha with an attitude that all actions performed are for the sake of the Lord.
The Yajna was very well attended on all the days.
Pujya Swamiji also inaugurated Block 'C' of upcoming Chinmaya Vidyalaya in Banashankari on 27/10/2018 and graced Balavihar meet on 28/10/2018 where children from different Balavihars showcased their talents in front of Pujya Swamiji who appreciated the programme and blessed them.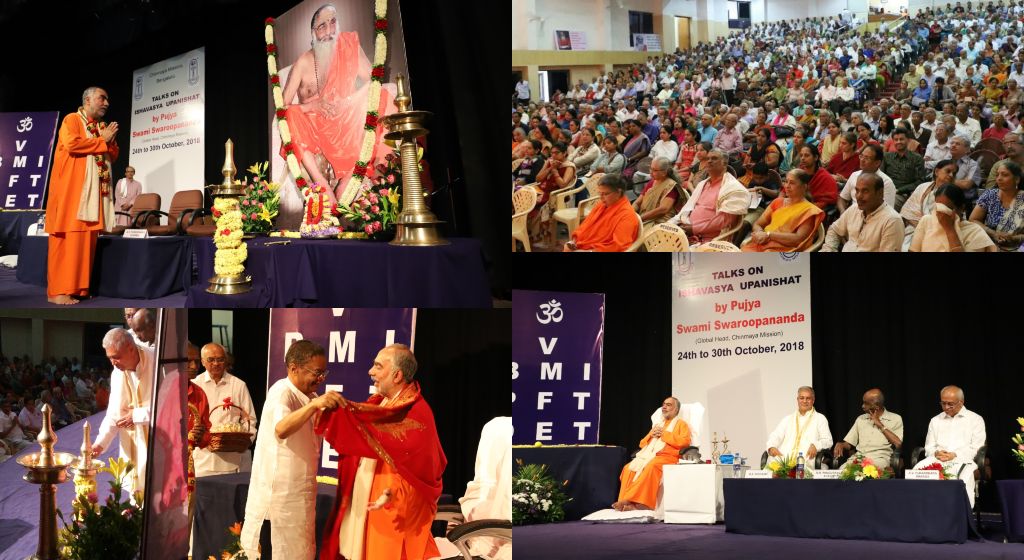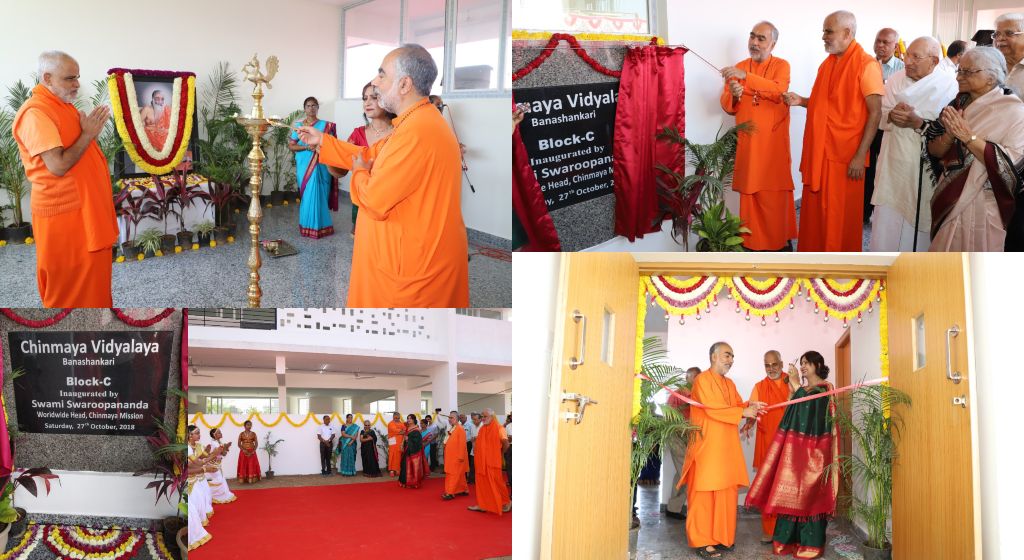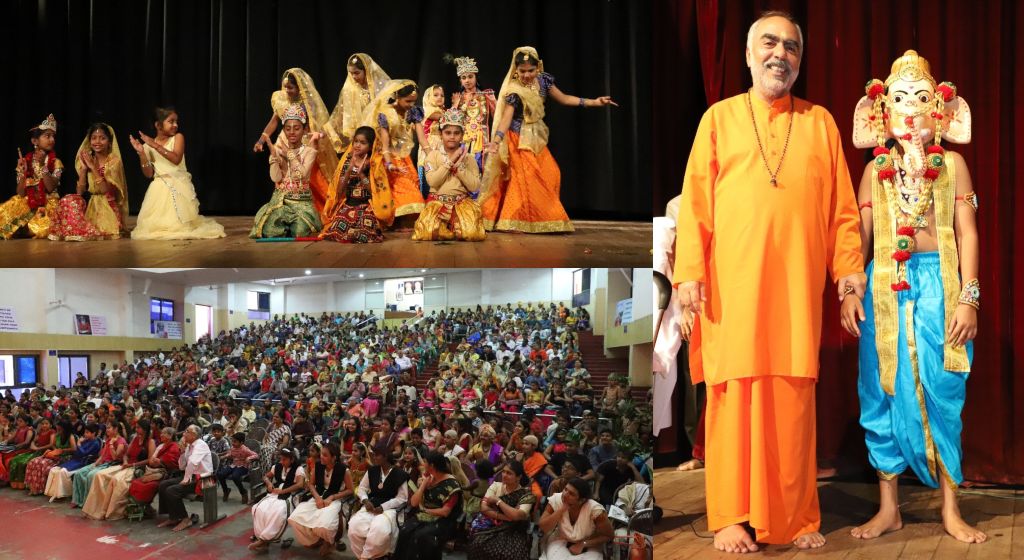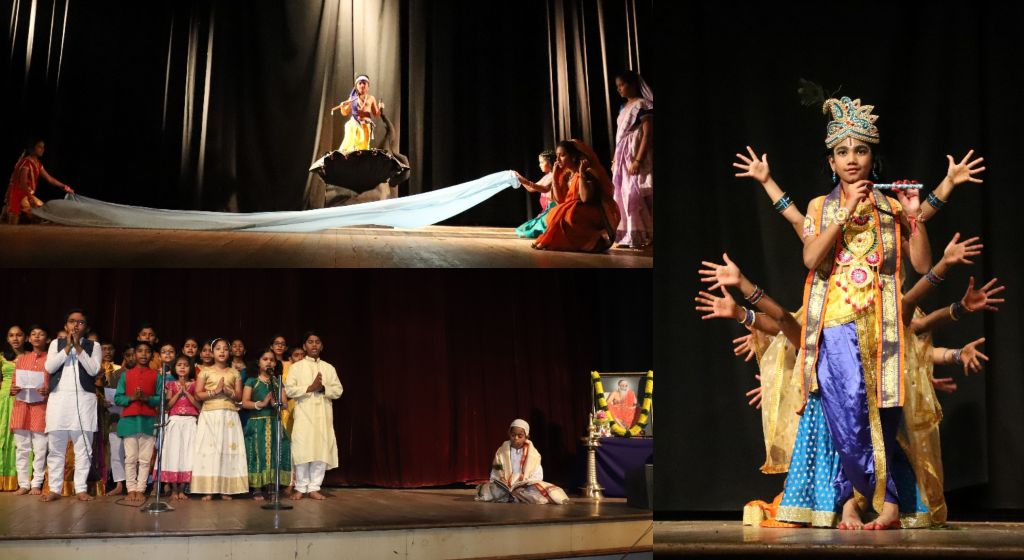 Navaratri Celebrations in Bengaluru
The auspicious and most popular Navaratri festival was observed in Sripaadakshetra, J P Nagar from 10th to 18th October, 2018 with all religious fervor in the divine presence of Lord Dakshinamurthy, the presiding deity. The daily different decorations of the Devi were a treat to the devotees who came in hundreds to perform the archana to the chanting of Lalita Sahasranama. The archana was followed by special puja and musical performance consisting of keertans, Devaranamas, classical music and bhajans by various groups. The entire temple wore a festive look on all the nine days with Swamijis conducting Satsang on the significance of Devi Mahatyma to spiritual seekers.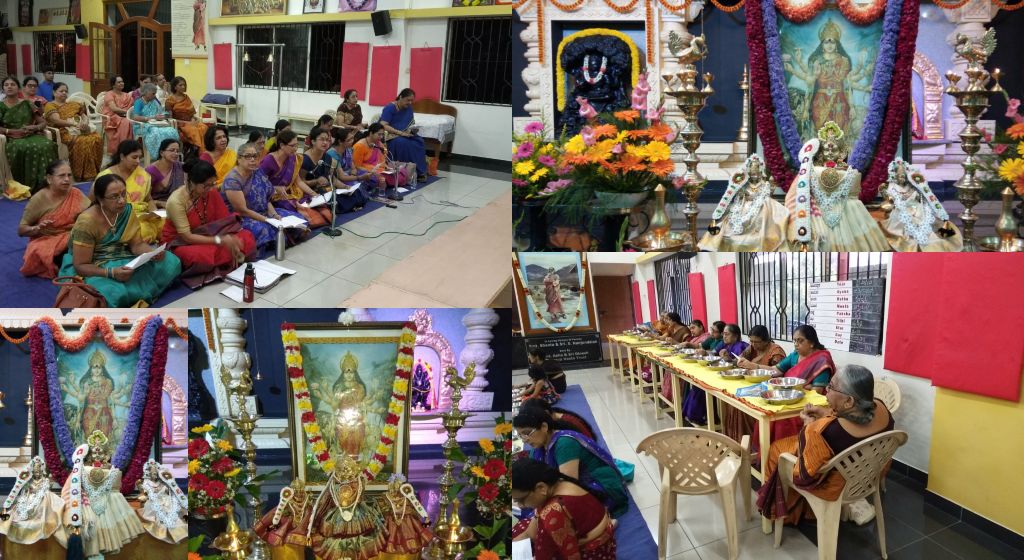 ---
Family Retreat – Vedanta Unplugged by CM Milwaukee
Dated : 2018/10/21

---

In this age of technology and speed, distractions abound! In their efforts to unplug from dependence and replug into independence, 60 Sadhakas met at a Family Retreat organized by CM Milwaukee from October 19th to 21st at a Camp in Ingleside, IL to study the Game of Life with Vivekji. The theme of the Retreat was Vedanta Unplugged.
Vivekji shared the framework for the Game of Life – plan, purpose, players, practice and playing the game. The purpose of the game is Fun and Friendship, which the Sadhakas had the opportunity to practice with various games and activities throughout the Retreat – human knot game, taboo, soccer (epic game with hail!), treasure hunt, debate, camp fire (where the children got to "burn" Ravana symbolizing the destruction of vices), meditation, Yoga and nature walks. In addition, the families prepared videos on various scenarios depicting how technology can be effective and distracting, which was a lot of fun. Vivekji shared 6 sutras on the use of social media that were simple and practical.
Vivekji shared a simple framework for playing the game of life that parallels the game of cricket – accept the decision of the umpire (~God), adapt to the field (~World), protect your stumps (~Body, Mind, Intellect), utilize your bat (~Knowledge and discernment) and learn from the test. He challenged all Sadhakas to play a game every day and use these principles.
Over a span of 45 hours, the Sadhakas unplugged from dependence and tuned into Vedanta, engaged in various games to practice and play, and reflected on lessons to apply these principles in the uncontrolled environment that they will go back to. The Retreat concluded with reflections and gratitude for this opportunity to learn and practice with the guidance of Vivekji and blessings of Pujya Gurudev and God.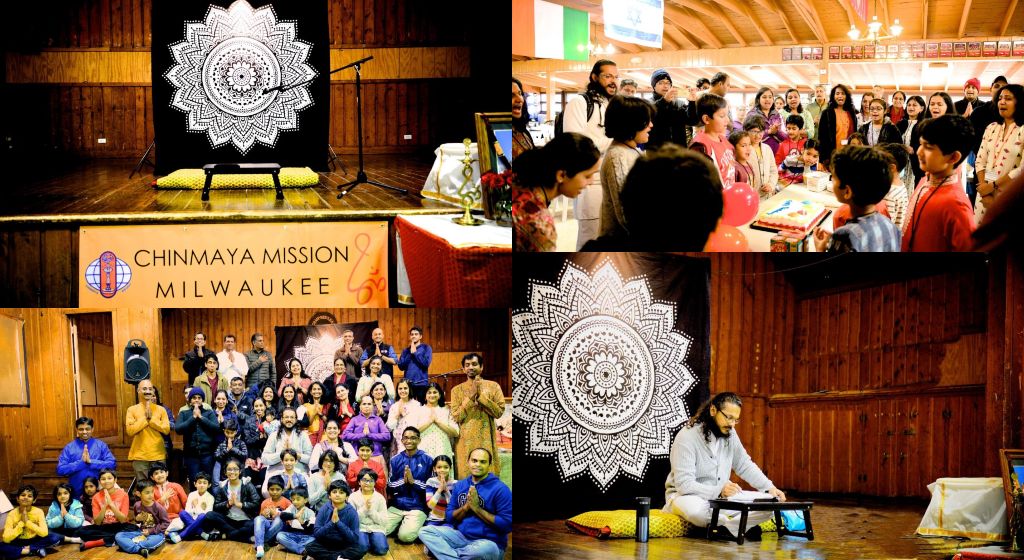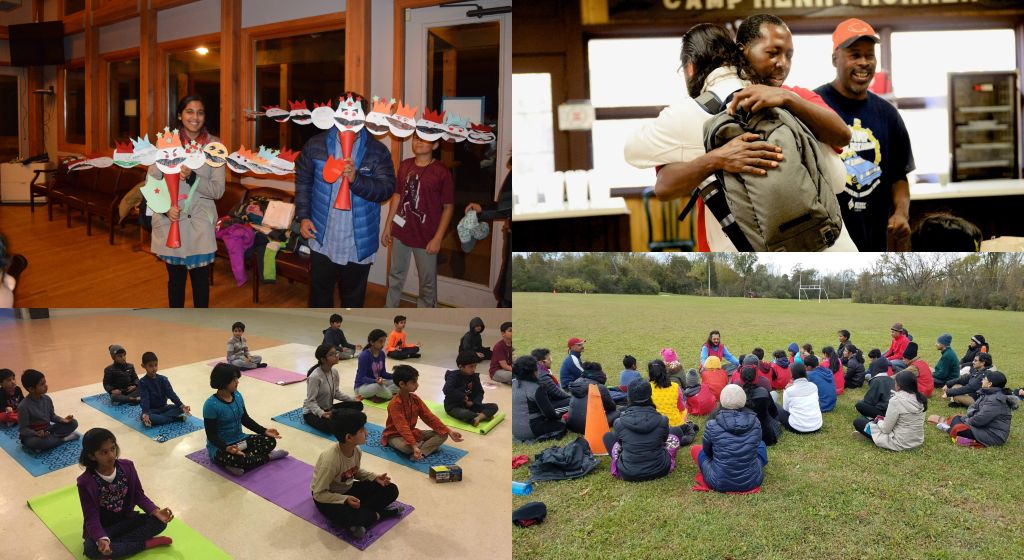 ---
Swanubhooti Vatika was awarded the AESA Award for the year 2017-2018.
Dated : 2018/10/30

---

The AESA – Architects Engineers Surveyors Association (Pune) – present awards for Best Project in various categories such as individual houses, multi-storey buildings, commercial complexes and industrial buildings, as well as an "Other" category for unique projects.
Swanubhooti Vatika has been chosen – among projects from all over India – as the Best Project in the "Other" category.
Chinmaya Mission is delighted with the recognition received for this unique Enlightenment Park at Chinmaya Vibhooti and its place as a space of self discovery. We look forward to welcoming you with your family and friends to visit Swanubhooti Vatika, to explore it for yourselves.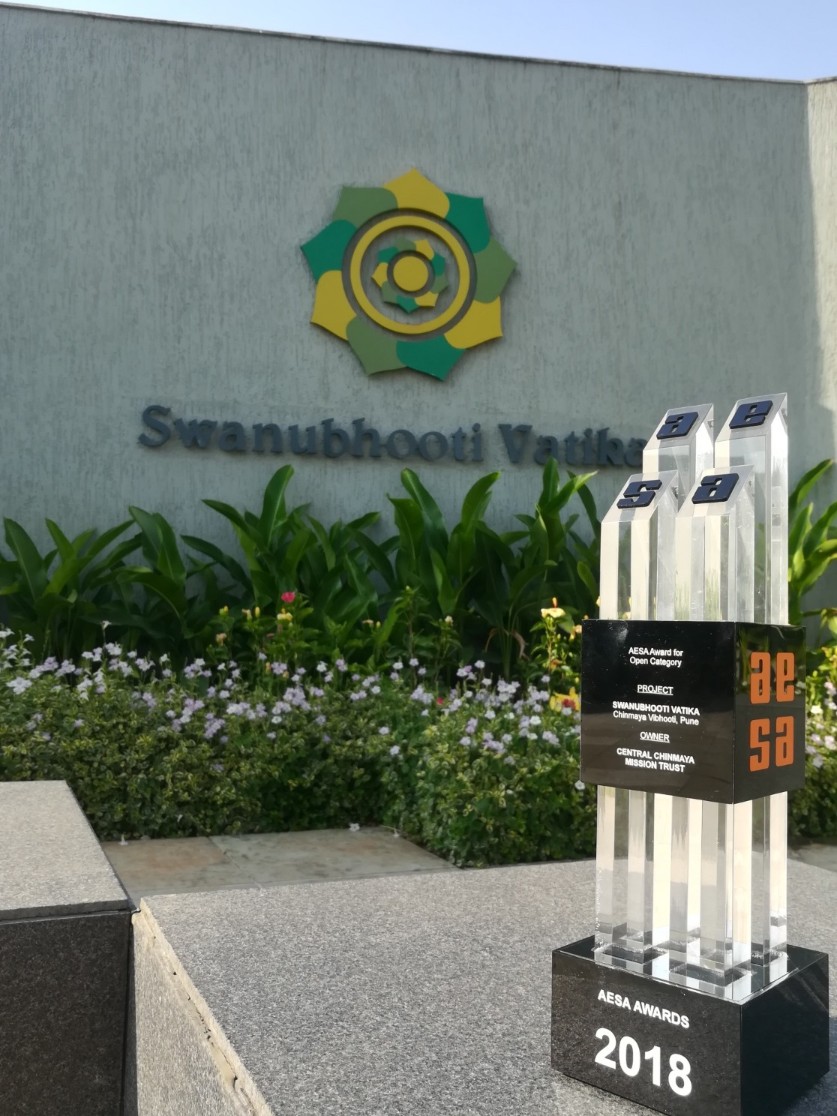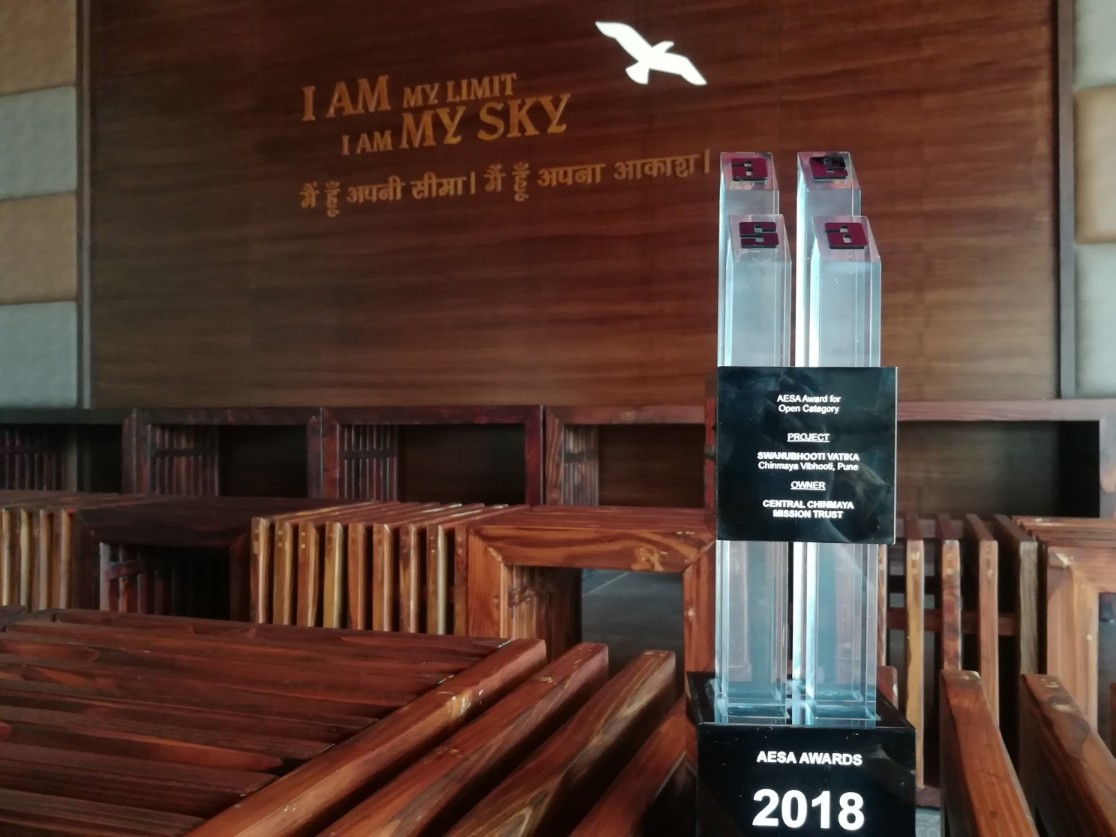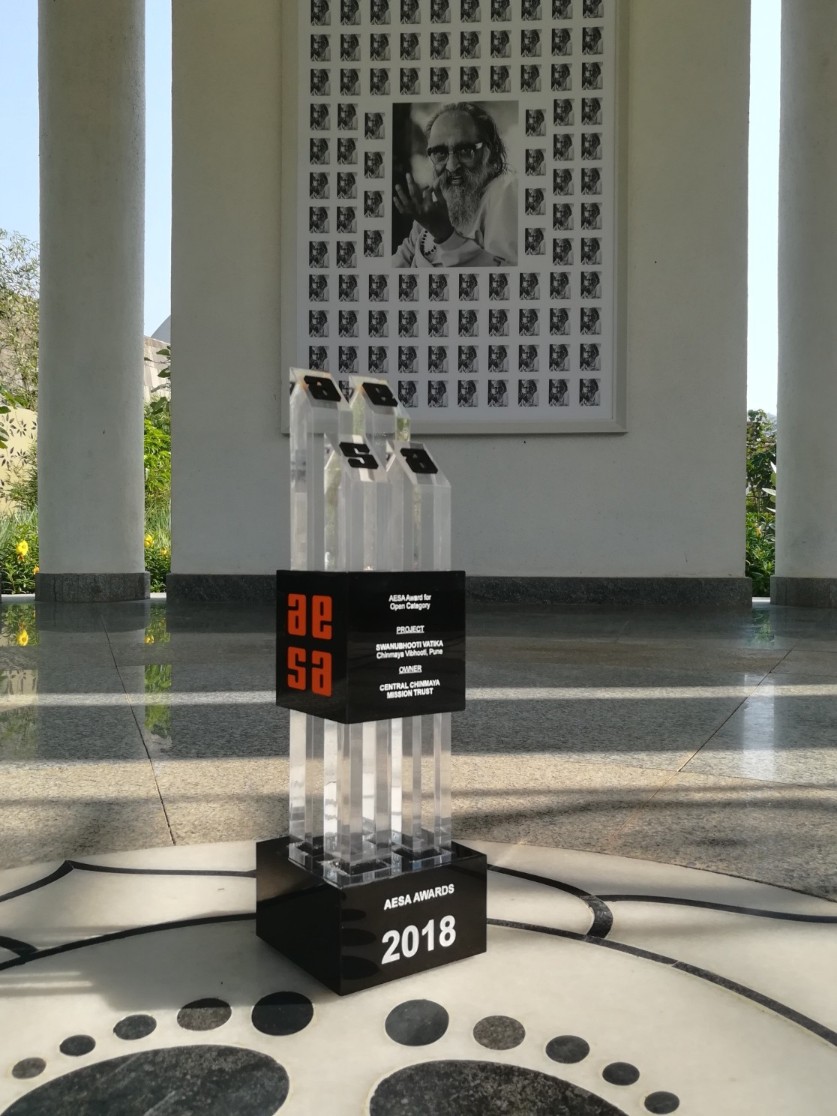 ---