News


To understand anything is to find in it something which is our own.
-Swami Chinmayananda
Archival News/Other News
'Glorious Gurus' Quiz Winners
Dated : 2021/07/23

---

Chinmaya Archives/CCMT is delighted to announce the names of the winners of the 'Glorious Gurus' online quiz, held from 18 July to 21 July 2021:
1st place – Rajesh Kumar – Chinmaya International Foundation, Kerala, India
2nd place – Abhinav Rajkumar – Sydney, Australia
3rd place – Sudha Rajkumar – Sydney, Australia
4th place – Brahmachari Ved Chaitanya – Chinmaya International Foundation, Kerala, India
5th place – Chandra Brahmasandra – Orlando, Florida, USA
High scorers:
Meenal Avudainathan – Kuala Lampur, Malaysia
Madhav Sharma – Patiala, Punjab, India
Narayana Swamy TS – Palghat, Kerala, India
Brahmachari Narayana Chaitanya – Vikarabad, Telangana, India
Special mentions:
Chinmaya Vidyalaya Kottayam – 171 participants
Chinmaya Vidyalaya Kannur – 150 participants
Congratulations to all the winners!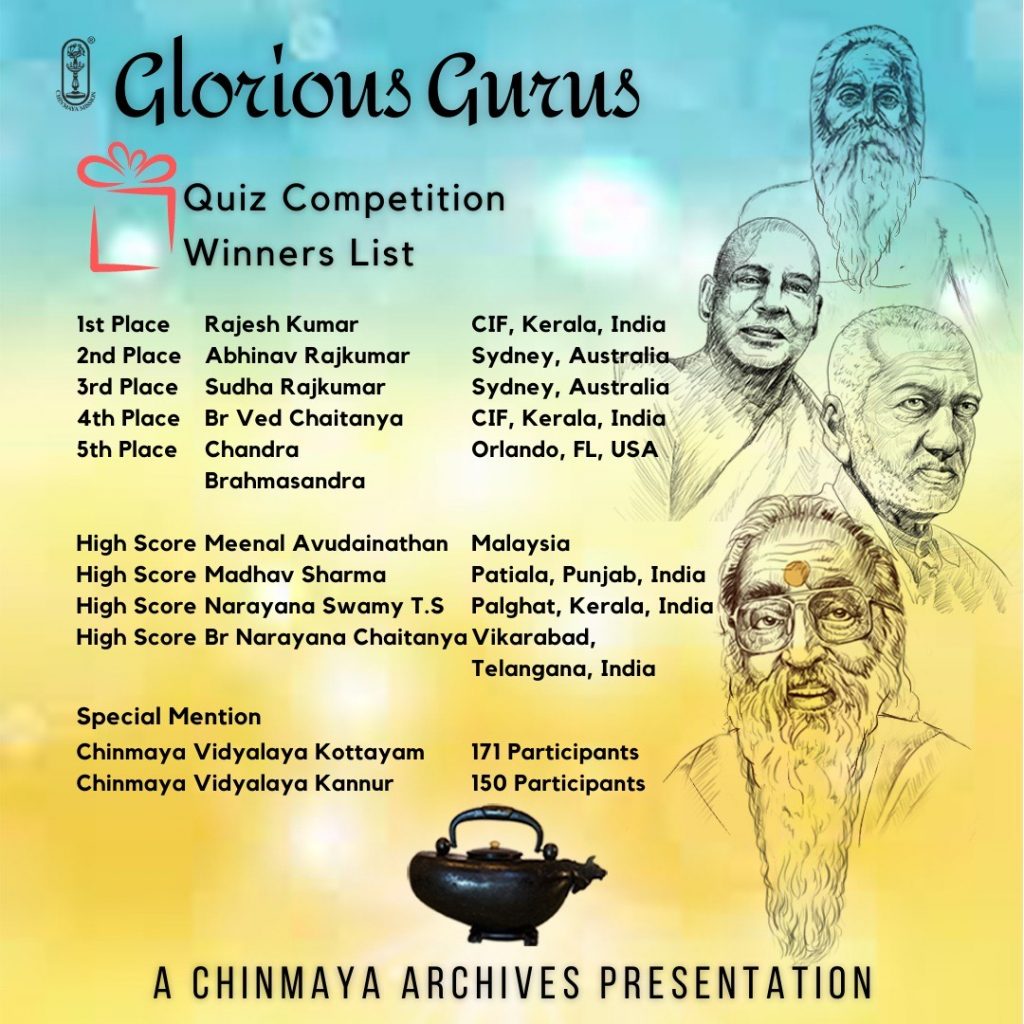 ---
Raincoats for Municipal Corporation Workers in Mumbai
Dated : 2021/07/20

---

On 20 July 2021, sevaks of Chinmaya Mission Mumbai's Mahima Zone distributed raincoats to 45 BMC (Brihanmumbai Municipal Corporation) cleaning staff, as part of the "Maximise Happiness" seva programme. The BMC staff wore the raincoats immediately to carry out their duties, as it was raining at the time. The monsoons usually continue until at least September and Mumbai sees very heavy rainfall, so this was an ideal gift to the hardworking staff.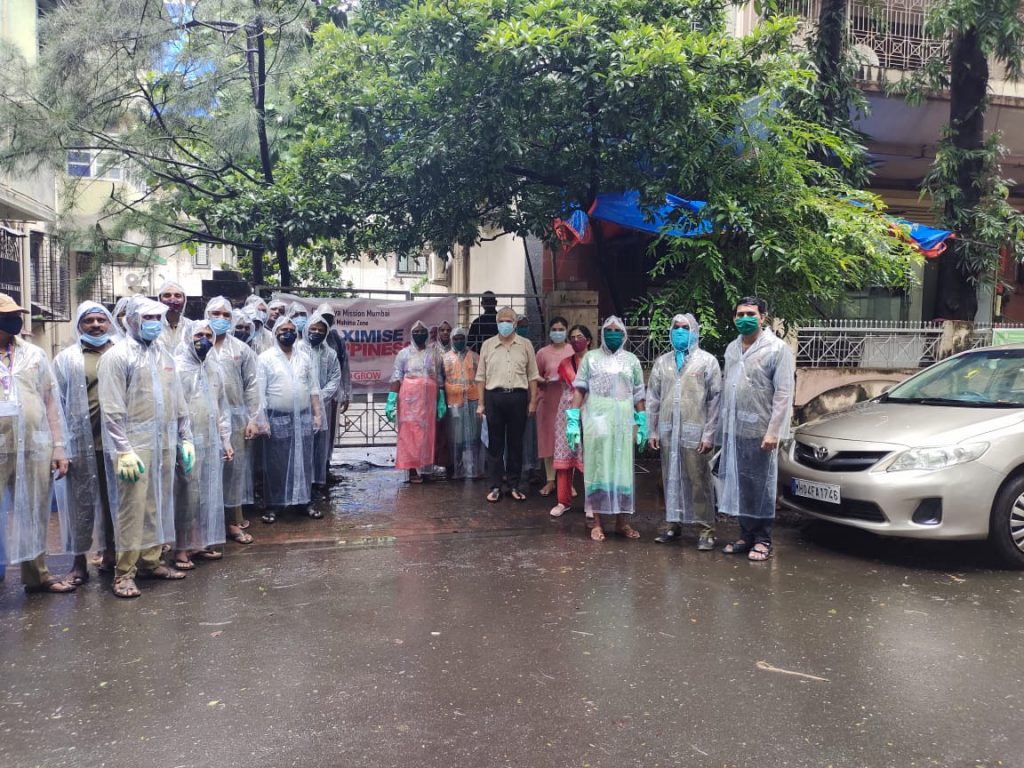 ---
Activity in Bengaluru during June 2021
Dated : 2021/06/13

---

Satsang by Pujya Swami Brahmananda
Pujya Swami Brahmananda conducted an online Satsang in Kannada on "Implementation of Traditional Practices" on 13th June, 2021.
Pujya Swamiji stressed the need of rethinking on the importance given by our elders in following the several daily rituals. Many of them have either been forgotten or neglected as blind beliefs as we have not understood their significance trying to defend our stand seeking scientific proofs & reasons. Pujya Swamiji took several forgotten habits and scientifically proved the importance and benefits of observing them. Simple rules like respecting elders, visiting temples, circumambulating the temple once, thrice, five or seven times, receiving Aarati, Teertha & Prasad, ladies wearing bangles, ear rings, etc., have a deep meaning besides physical and spiritual benefits. Our elders knew the immense good effects but in their wisdom gave them a religious flavour to ensure that they are not lost. The future generations just followed them without questioning; but of late the youngsters have started challenging them and it is the duty of all elders to equip themselves to satisfy the queries so that the rich meaningful traditions are not lost. Pujya Swamiji also emphasised that many catastrophes can be avoided and a peaceful homogeneous meaningful living possible even if we just follow the rituals without understanding their meaning that is sure to dawn as we reap the results.
Satsang with English captions was viewed by over 17000 sadhaks.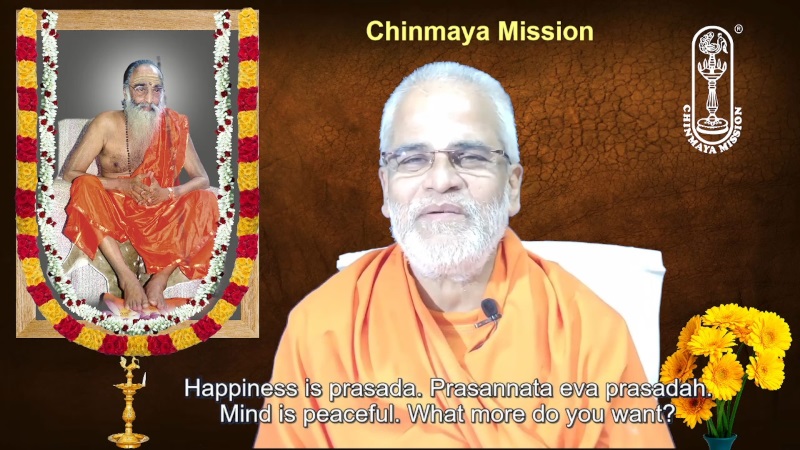 ---
Workshop on Emotional Hygiene
Dated : 2021/07/06

---

Under the Maximise Happiness 2021 initiative, Chinmaya Mission Mumbai, Chinmaya Prakash Zone organized a talk on the subject `Emotional Hygiene' on Sunday 6 June 2021.
The talk, by Dr. Sunitha Shankar, touched upon myths and facts about emotional hygiene. She explained that all negative emotions are not bad and that often even strong people can't control their emotions. Every individual has a different emotional threshold and emotions can't just be stopped. She also explained how one can practice emotional hygiene. Regular small steps fetch rich rewards. One should be compassionate to oneself and to others. One should not ruminate over emotions. Dr. Sunitha also advised those who find themselves getting swayed by emotion to maintain a gratitude journal and to do some form of physical exercise.
The talk was attended by about 90 participants.
---
Swamini Krishnapriyananda Attains Mahasamadhi
Dated : 2021/06/17

---

Swamini Krishnapriyananda of Chinmaya Jayam, the Chinmaya Mission Centre at Santacruz, Mumbai, took final refuge at the feet of Pujya Gurudev Swami Chinmayananda on 17 June 2021 at night, at age 61.
She attended the 8th batch of the Vedanta Course at Sandeepany Sadhanalaya, Powai, Mumbai, in the years 1991-1993. In May 1993, she received Brahmachari Deeksha and was given the name Brahmacharini Dharmapriya Chaitanya. She was earlier posted to Chinmaya Mission Centres in Vadodara and Noida, and she served at Chinmaya Jayam (Mumbai) since 2002. In February 2010, she received Sannyasa Deeksha from Swami Tejomayananda.
Swamini Krishnapriyananda worked with devotion for the activities and projects of Chinmaya Jayam. Her talks in Hindi, Gujarati and English were popular. She was particularly known for the Rudrabhisheka Pujas and Havans she performed and guided.
She will be remembered for the seva she offered to Chinmaya Mission. Our respectful homage to Swamini Krishnapriyananda.
---
Pratishta Day of Deenabandhu Kaliamardhana Krishna Temple, Bengaluru
Dated : 2021/05/26

---

The Pratishta day of the Deenabandhu Kaliamardhana Krishna Temple in Indiranagar, Bengaluru, was observed with reverence on 26 May 2021 with abhisheka, soulful vedic chanting and a special puja, in the presence of Swami Brahmananda. The temple, even though closed to visitors due to lockdown regulations, was very beautifully decorated.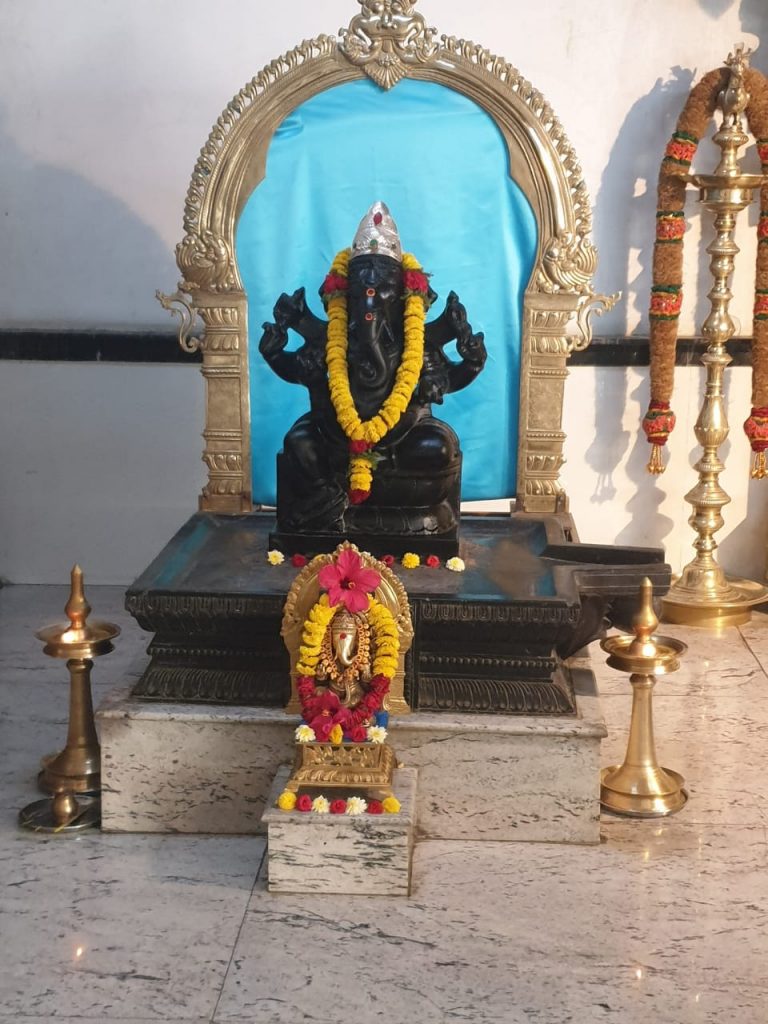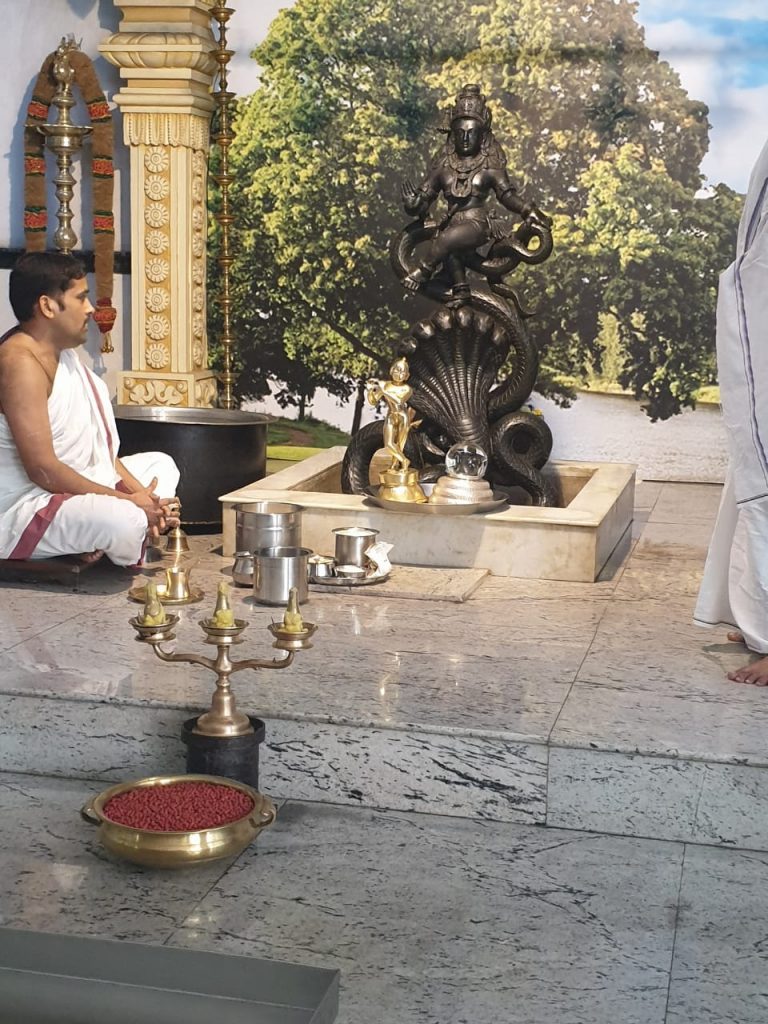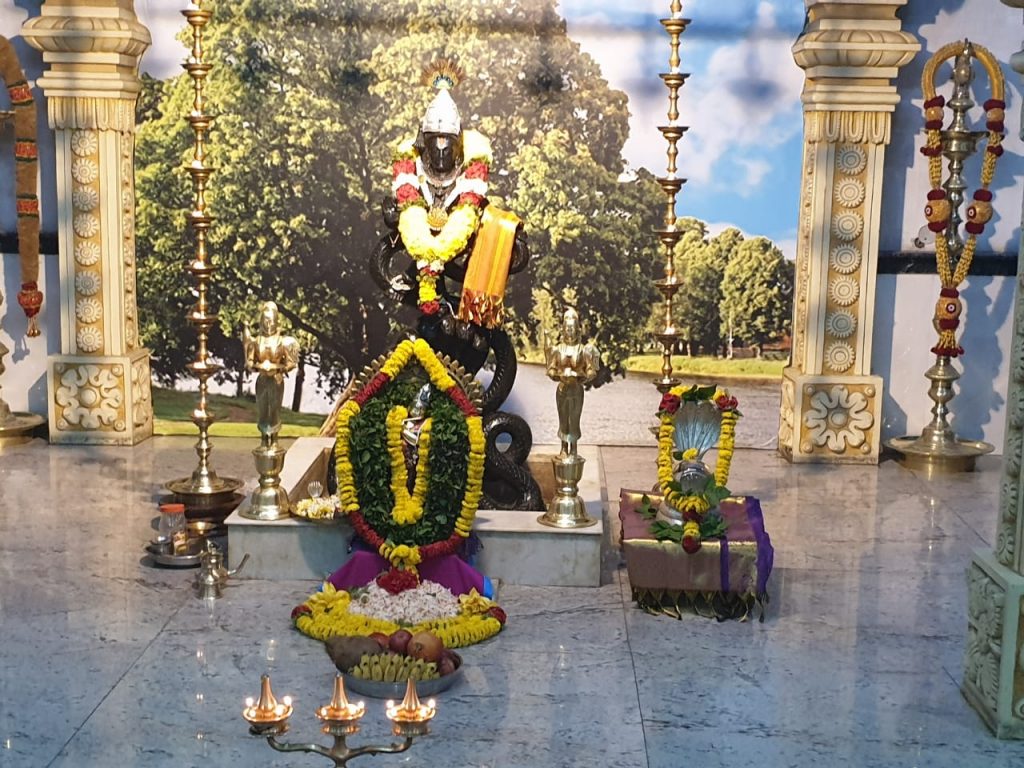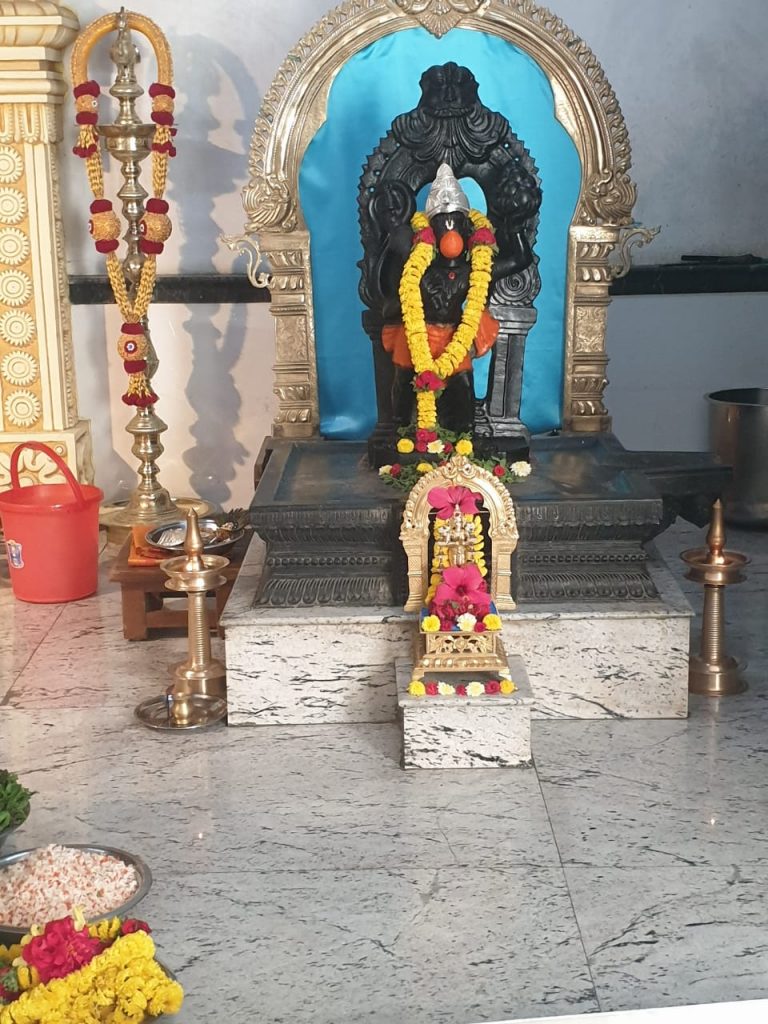 ---
Inauguration of the 13th Vedanta Course in Hindi at Sidhbari
Dated : 2021/05/08

---

The 13th Vedanta course in Hindi (2021-2023 batch) was inaugurated at Sandeepany Himalayas, Sidhbari on the auspicious day of the 105th Chinmaya Jayanti, 8 May 2021.
The day began at Pujya Gurudev Swami Chinmayananda's Samadhi shrine, where the students offered prostrations, sought blessings and performed Vaidic arati to the One because of whose vision and foresight the Vedanta course in Hindi was started, back in 1981.
Guru Paduka Puja was then offered at Pujya Gurudev's feet with great reverence and deep devotion. Swami Advayananda, Course Acharya, invoked His blessings on all.
The inauguration programme began with lighting of a lamp for a bright and auspicious start. Brahmachari Tanmaya Chaitanya chanted Ganapati Atharvashirsha to seek divine grace and blessings. Mona Malkani, General Manager of Chinmaya Tapovan Trust, warmly welcomed everyone, followed by an address by Swami Avyayananda.
Via a video message, Pujya Guruji Swami Tejomayananda congratulated the students for their wise and bold decision to pursue the study of Vedanta. He said that the desire to know God is the result of merits of countless lives and to fulfill that, one needs an Acharya to teach and guide in all respects. In his message, Pujya Swami Swaroopananda (Global Head, Chinmaya Mission) advised the students not to forget the purpose for which they had enrolled for the Vedanta Course and to make the best of it as they are very fortunate to be in the punyabhumi of Sidhbari.
A vote of thanks by Mona Malkani followed, where she thanked all the sponsors from across the globe for their generous support for the Rishiputra Scheme.
Of those selected, a total of 25 students joined the course, including students from Gujarat, Madhya Pradesh, Maharashtra, Uttar Pradesh, Haryana, Kerala, Delhi, Sikkim, Odisha and Nepal joining. Of these, 10 students were present for the ceremony, following their quarantine period on arrival at the Ashram. We wish them all the best in their study and sadhana.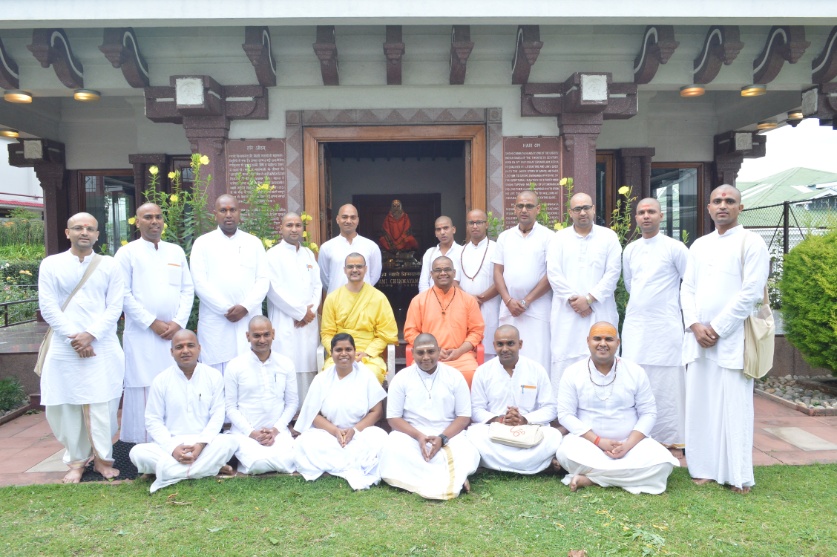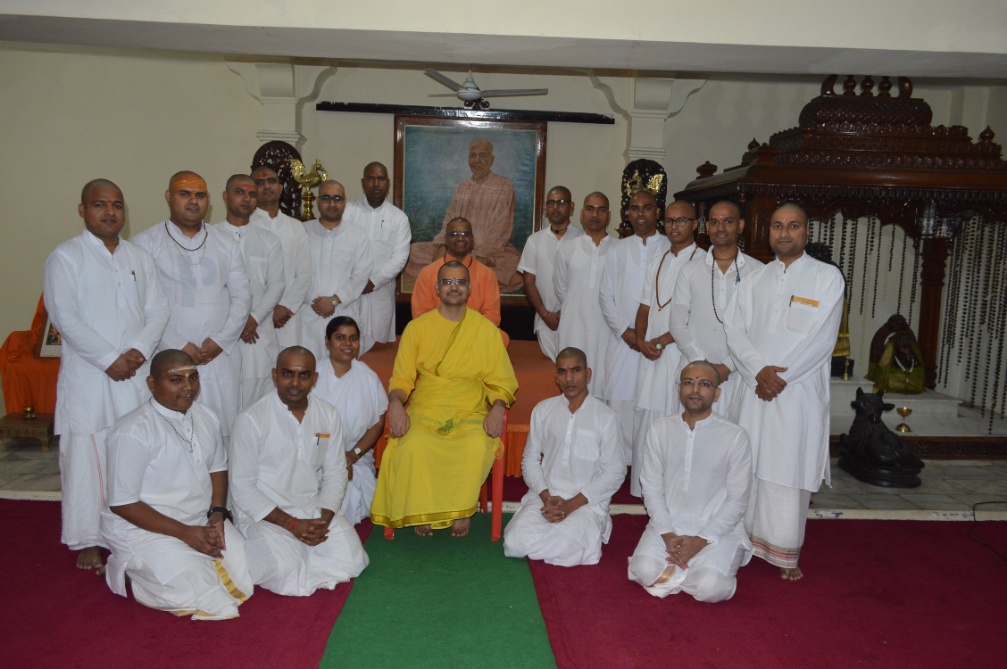 ---
Activities in Bengaluru during April 2021
Dated : 2021/04/03

---

Online Gita Jnana Yajna
Pujya Swami Adityananda of Mandya centre conducted on line Gita Jnana Yajna in Kannada from 03/04/2021 to 10/04/2021 taking Bhagavad Gita Chapter – 7. Pujya Swamiji stressed the importance of seeing the presence of Lord in the world of plurality and relate the essence – Dharma in every visible entity in the universe. This will develop a vision of oneness that will help in dissolving the Ego besides removing all notions and attachments to the external world born out of ignorance. We will then be able to get glimpses of our real nature that will motivate us to pursue sadhana in acquiring Self knowledge which is the ultimate in understanding the purpose of our life.
The Yajna was viewed by several sadhaks.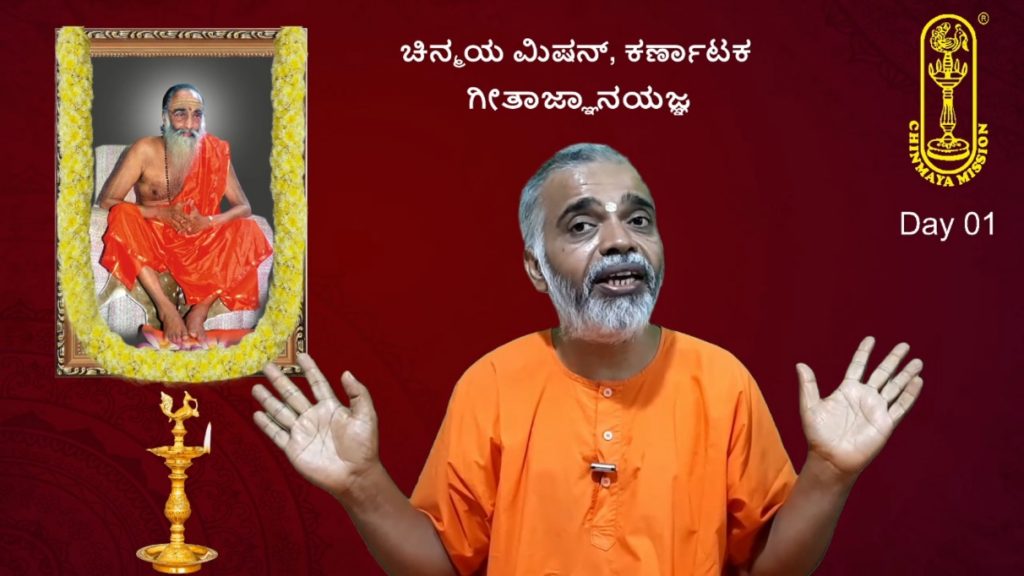 ---
Medical kits handed over at DGP office Hyderabad by CST / CM Hyderabad
Dated : 2021/05/21

---

CST/CM Hyderabad donated 250 medical kits to be utilised for Covid positive patients who are front line workers and poor persons, costing Rupees Ten Lakhs and Fifty thousands only (₹10,50,000/-) were handed over at DGP office Lakdikapul Hyderabad . You may see the related pictures of the IGP receiving medicines , DGP receiving medicines, DSP stores incharge. This is a seva conducted by Chinmaya Seva Trust / Chinmaya Mission Hyderabad, under the Hari Seva project . Sevak sudhama coordinated this seva .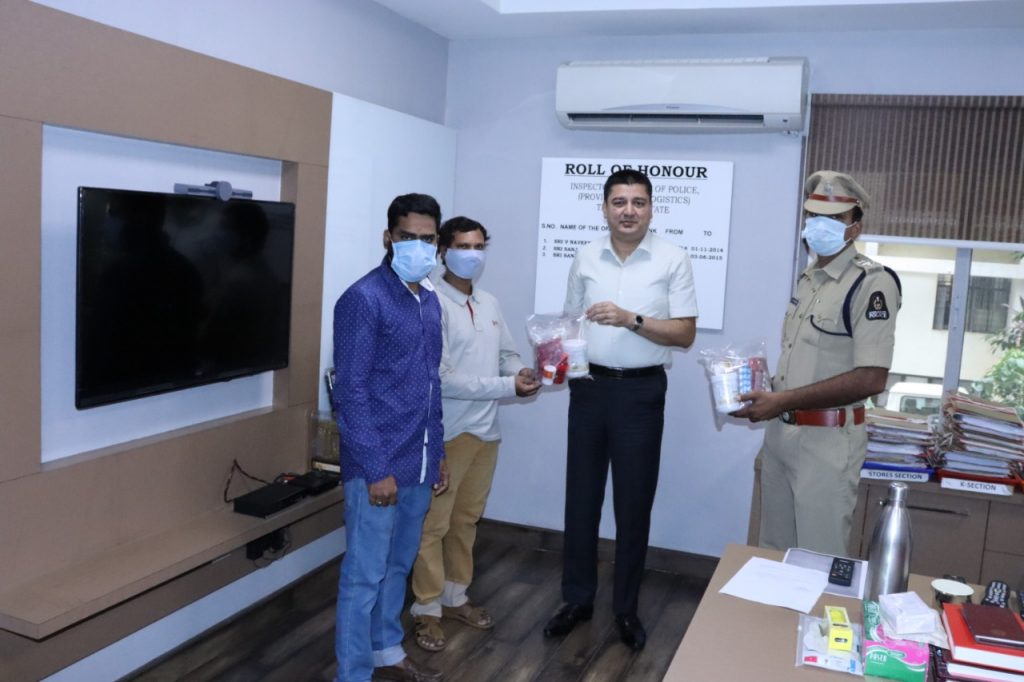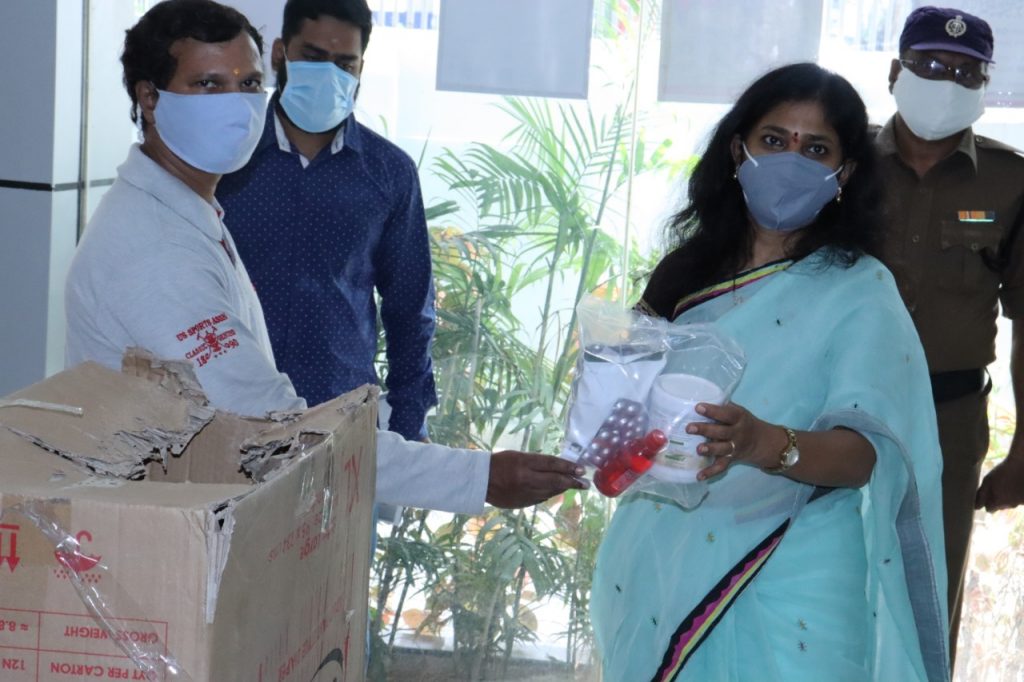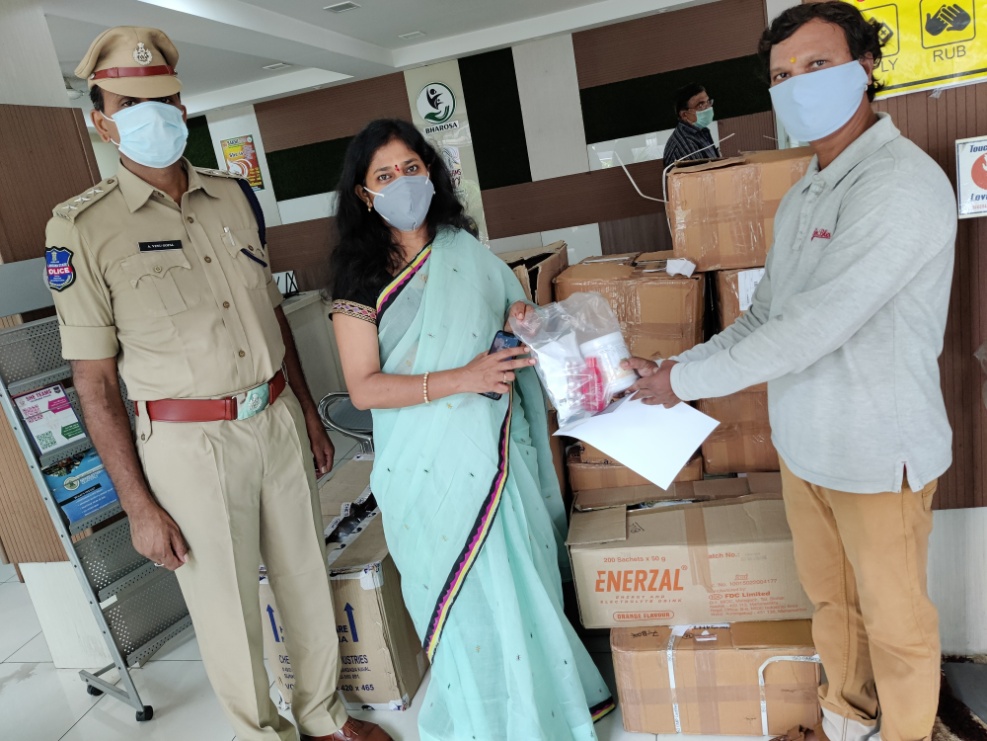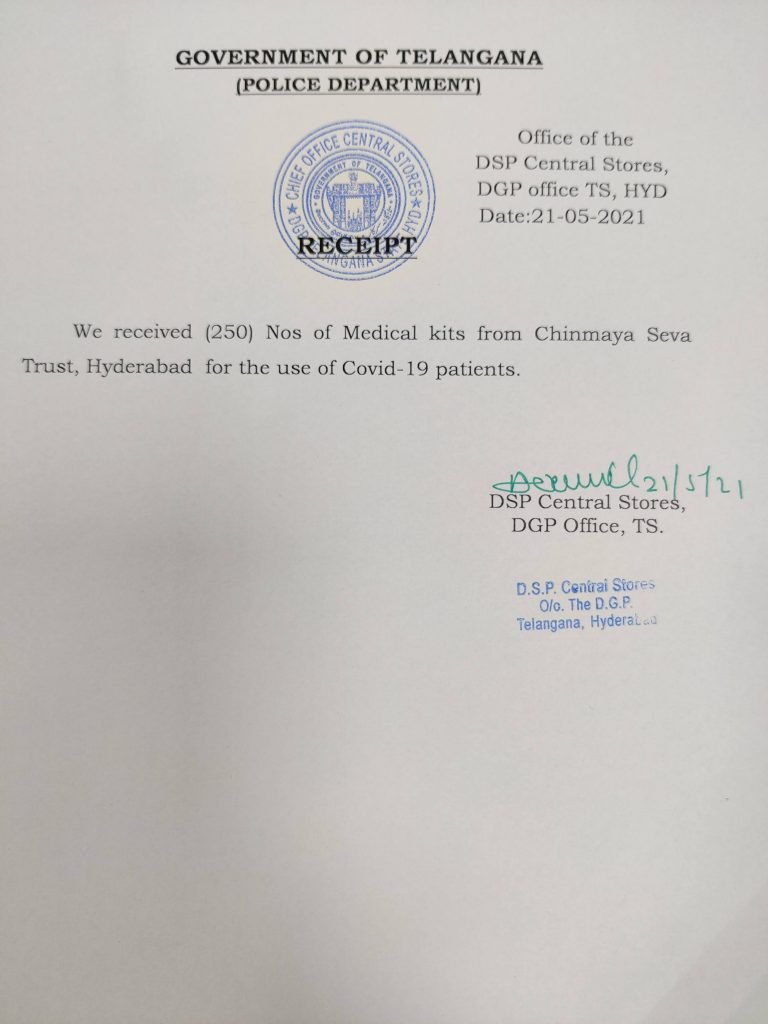 ---
Message-on-Geeta
Dated : 2021/05/08

---

Chinmaya Mission is thankful to the Honourable Prime Minister of India, Shri Narendra Modiji, for his message.
---