News


To understand anything is to find in it something which is our own.
-Swami Chinmayananda
Archival News/Other News
Upanishad Ganga Re-Telecast on DD National
Dated : 2021/04/16

---

On popular demand and at the behest of Doordarshan National Network, our very own serial, Upanishad Ganga, will be telecast yet again on DD National. The request is a matter of great joy and honour for the entire Chinmaya family; a wonderful recognition of Chinmaya Mission's offering to the world.
With the pandemic showing no signs of abating, across the globe every home requires a constant supply of spiritual strength to face these challenging times. The deep and subtle messages enshrined in every episode will lift our sometimes sagging morale and help us face each day with courage and fortitude.
Below are the details for the telecast, which began on 14 April 2021:
Monday to Friday at 9:30 PM IST with a repeat telecast at 9.30 AM IST on the following day
On DD National channel
DD National is available on the following channel numbers:
DD Free Dish – 002; TataSky – 114; Airtel Digital TV – 148; Sun Direct – 302; Videocon D2H – 149; DishTV – 193; Den – 138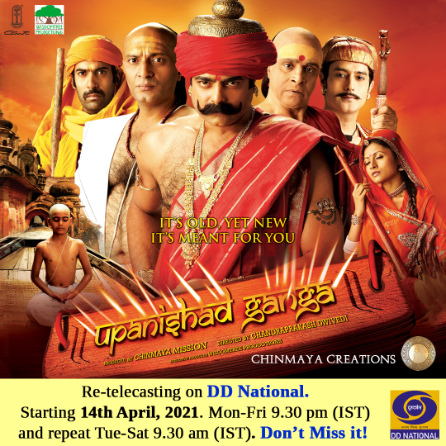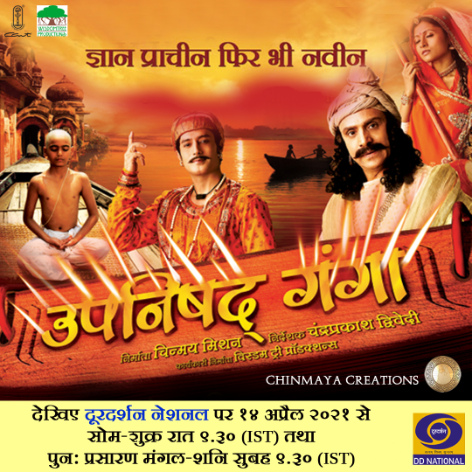 ---
Inauguration of 5th Basic Purohit course
Dated : 2021/04/14

---

The inauguration of the 5th Basic Purohit Course of Chinmaya Vaidika Vidya Peet, Coimbatore took place in Chinmaya Gardens on 14th April, 2021. The day began with Ganapathi abhisheka and puja for Lord Ananda Nartana Vinayaka amidst the auspicious chants of the Ganapati Atharvasheershopanishad by the devotees assembled and participants of the course. Upanayanam ceremony was done for 13 students. Mukhya Swami SwaroopanandaJi explained the meaning of Gayatri mantra and significance of the Upanayanam to all the Veda Putras. Mantropadesa was performed by Br. Divya Chaitanyaji assisted by Br. Venkatakrishnanji.
Pujya Swami Swaroopanandaji was then welcomed with Purna kumbam to officially preside over the inauguration and bless the students of this batch. Present with him were Swamini Vimalanandaji and Swamini Sampratishthanandaji. The function started with prayer and Swamini Sampratishthanandaji, welcomed everyone present. Br. Divya chaitanyaji, course Acharya presented the report.
The 32 Vedaputras who have come from various parts of India were introduced and blessed by Mukya Swami Swaroopanandaji. The course materials with books, puja articles and Guru Parampara photo were distributed and the students were blessed by Pujya Swami Swaroopanandaji and Swamini Vimalanandaji's ashirvachan. Paduka puja was performed and Vote of thanks was proposed by Divya chaitanyaji. Swami Anukoolanandaji, Br. Sundar Chaitanyaji, Brni. Sharanya Chaitanyaji, Br. Sanatan Chaitanyaji were among the others present. The collective efforts of all the incharges of various centres of Chinmaya Mission, the team of Chinmaya Gardens, donors and well wishers have contributed towards making this course a possibility and this function a memorable one.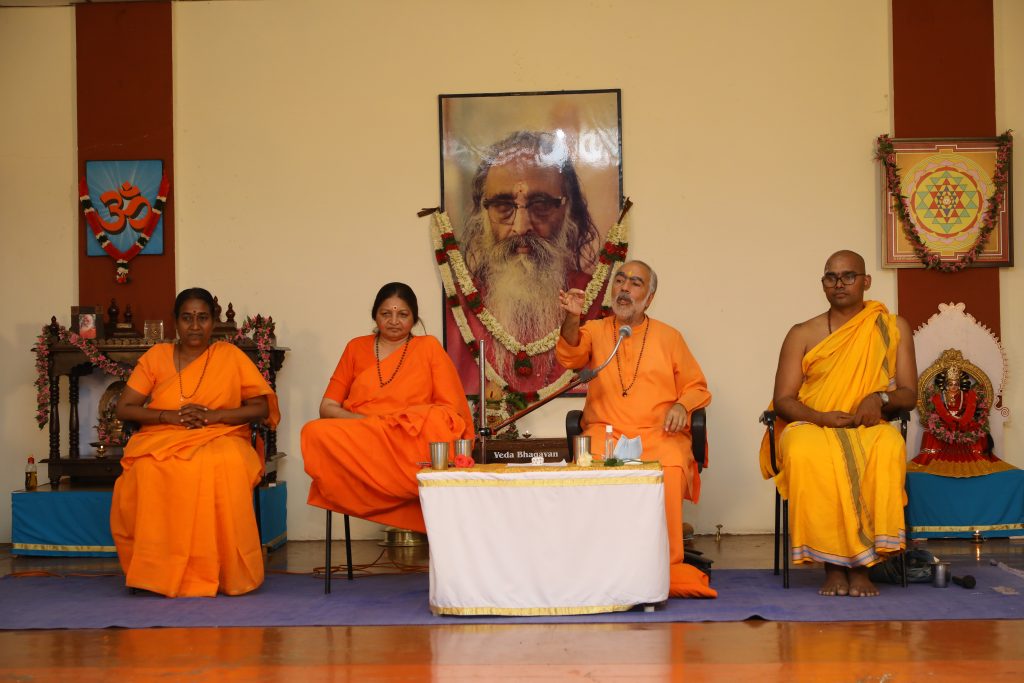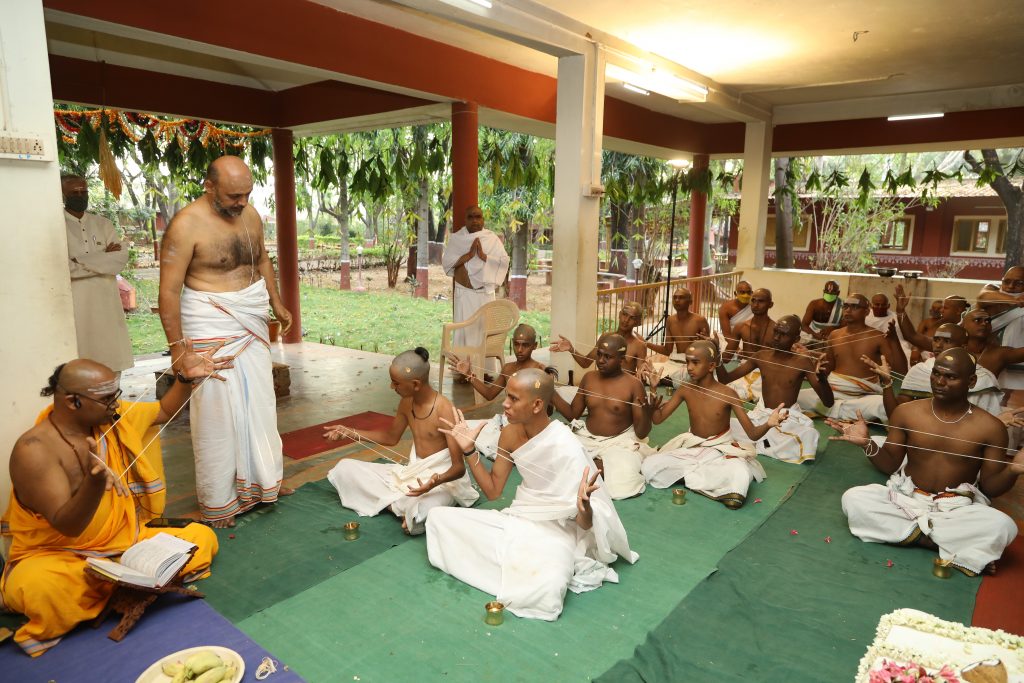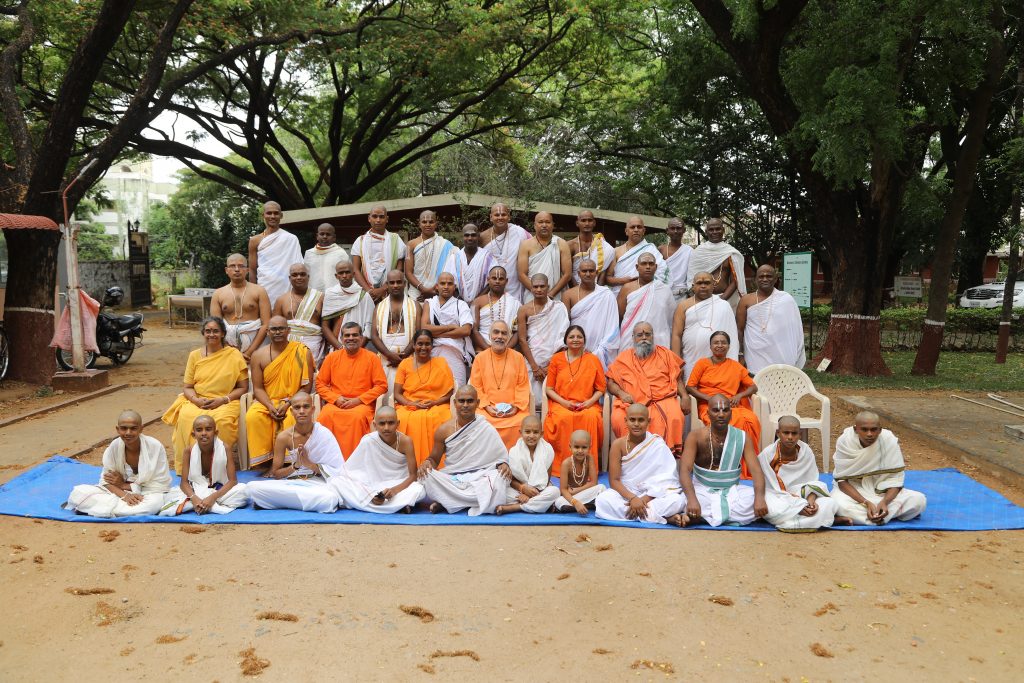 ---
CHYK SJ Retreat Report
Dated : 2021/02/12

---

Hari Om! With Pujya Gurudev's, Pujya Guruji's, and Pujya Swami Swaroopanandaji's grace, Chinmaya
Mission San Jose held its annual CHYK retreat, "Mind the Gap" on February 12-15th, 2021. Retreat attendees ranged in age from 17 to 45 and included many of the growing Chinmaya Setukari (CSK)
demographic.
Due to the COVID-19 shelter-in-place order, the retreat was conducted virtually instead of on San Jose Sandeepany ashram premises. Through the virtual format, the retreat was able to reach over 150 seekers from all over North America. Vivekji and Brahmachari Sohamji led the creative process behind this retreat, conducting five discourses on puja, japa, and dhyana as taught in Bhagavan Ramana Maharshi's Upadesa Sara. Vivekji also treated attendees to a discourse on the Raas Leela from Srimad Bhagavatam,giving new significance to Valentine's Day. Discourses were made available to the public through the Chinmaya Mission Niagara YouTube channel.
A team of local CHYKs gathered in the yagna spirit to organize and curate content for this retreat. Retreat workshops focused on likhita japa, mindfulness both indoors and outdoors, and exploring the three gunas through music. Attendees were able to informally speak with Vivekji and Sohamji in virtual chat sessions,meet like-minded peers across the country in discussion groups, and connect more deeply to their spiritual practices.
All attendees left with determination to deepen their sadhanas and serve as stabilizing forces within their surrounding communities.

CHYK San Jose thanks Chinmaya Mission for their continued support in harnessing youth potential through dynamic spirituality.
– Aarjav Joshi, Aashika Suseendran, Keshav Venkat, Nidhi Bangari, Sahana Rao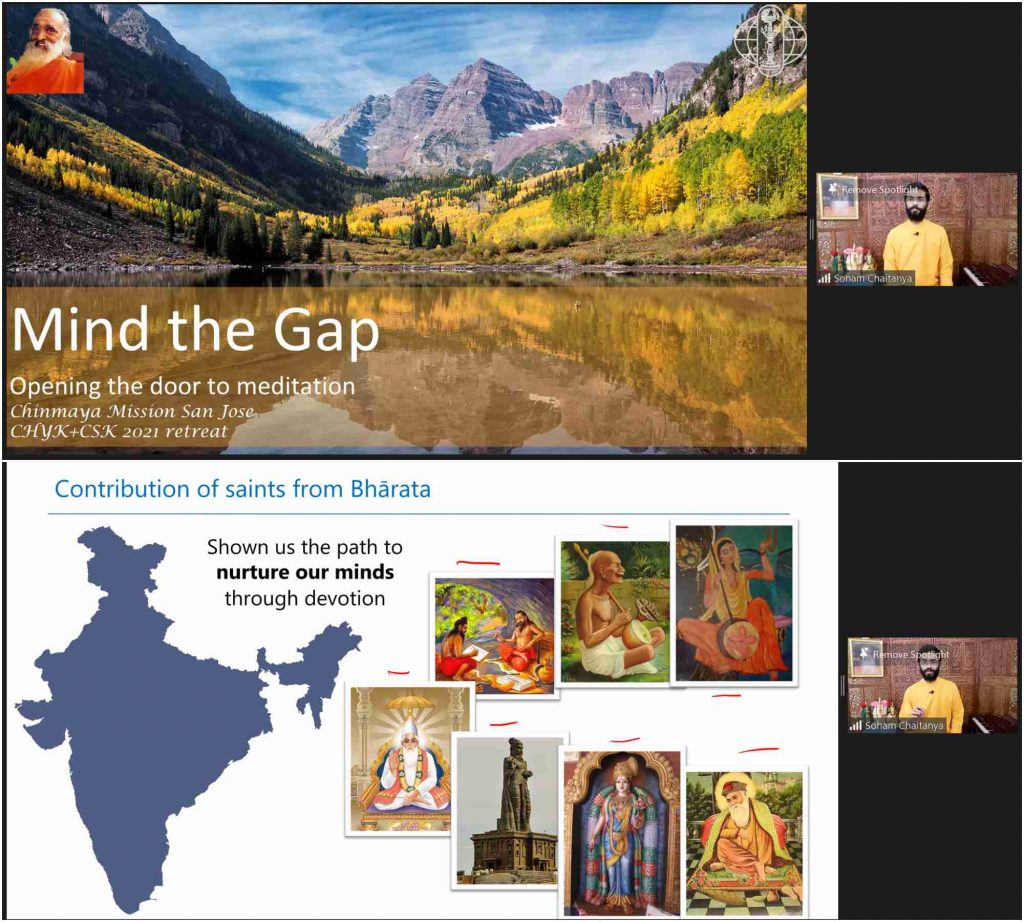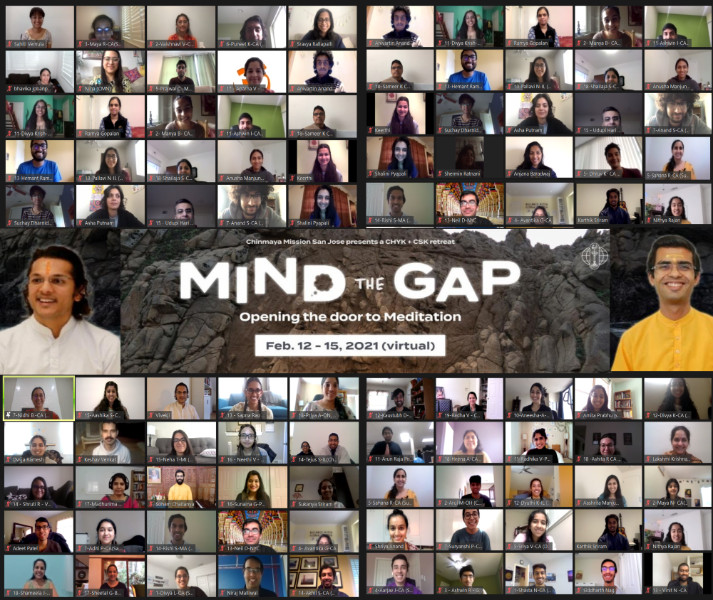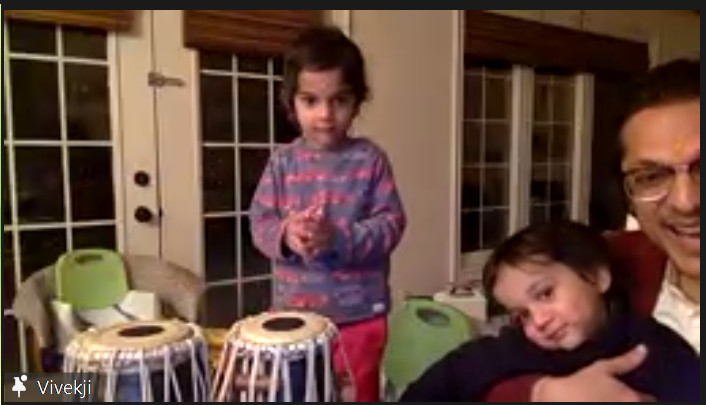 ---
Activities in Bengaluru during Feb 2021
Dated : 2021/03/14

---

Sadhana Day in Indiranagar
Sadhana Day was observed on 14th February, Sunday at Deenabandhu Temple, Indiranagar in the holy presence of Pujya Swami Brahmananda with Atma Bodha as text for discussion and over 150 study group members participating. The gathering was divided into nine groups with each group allotted a few verses for discussion under a moderator. After discussion, the sevak of each group presented the synopsis of the discussion in a lucid, precise manner elucidating the essence of the verses. Pujya Swamiji concluded the group discussion presentation emphasizing the diligent identification with the all-pervading "I" (Self) at all times with Nidhidhyasana.
Pujya Swamiji expressed satisfaction on study of the text by the members for past four months and stressed the need to be in constant Satsang through study of scriptures with an intense desire to understand the Self.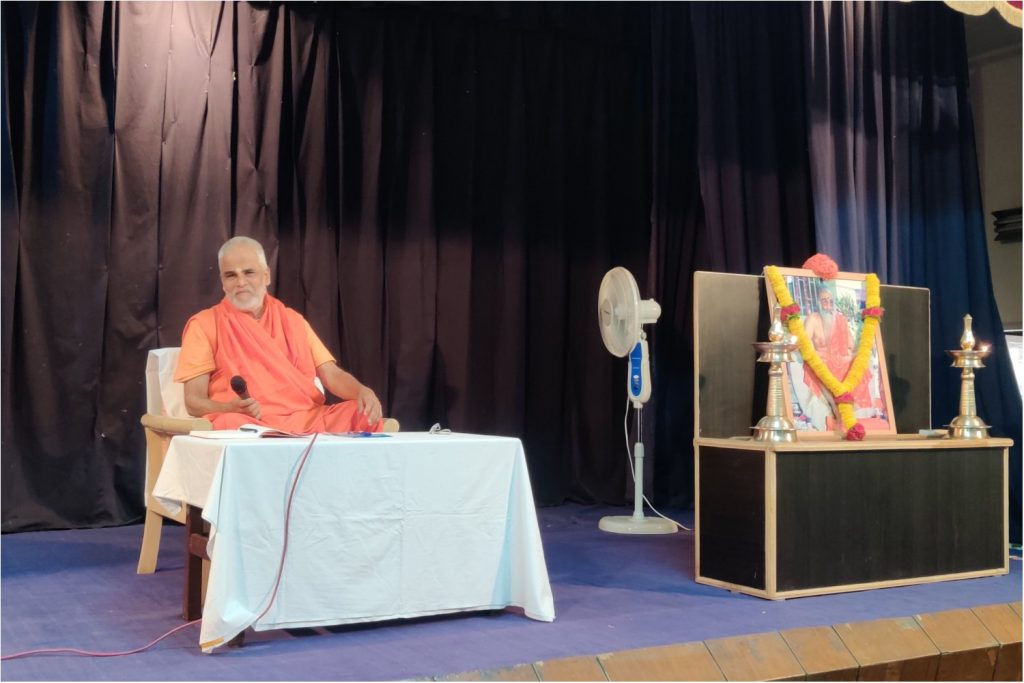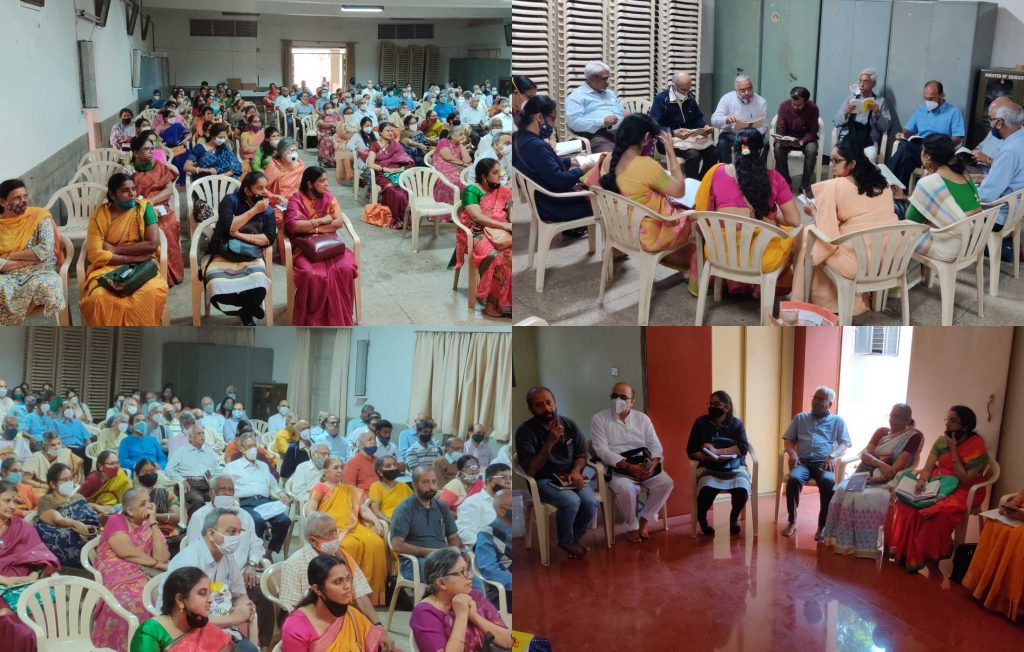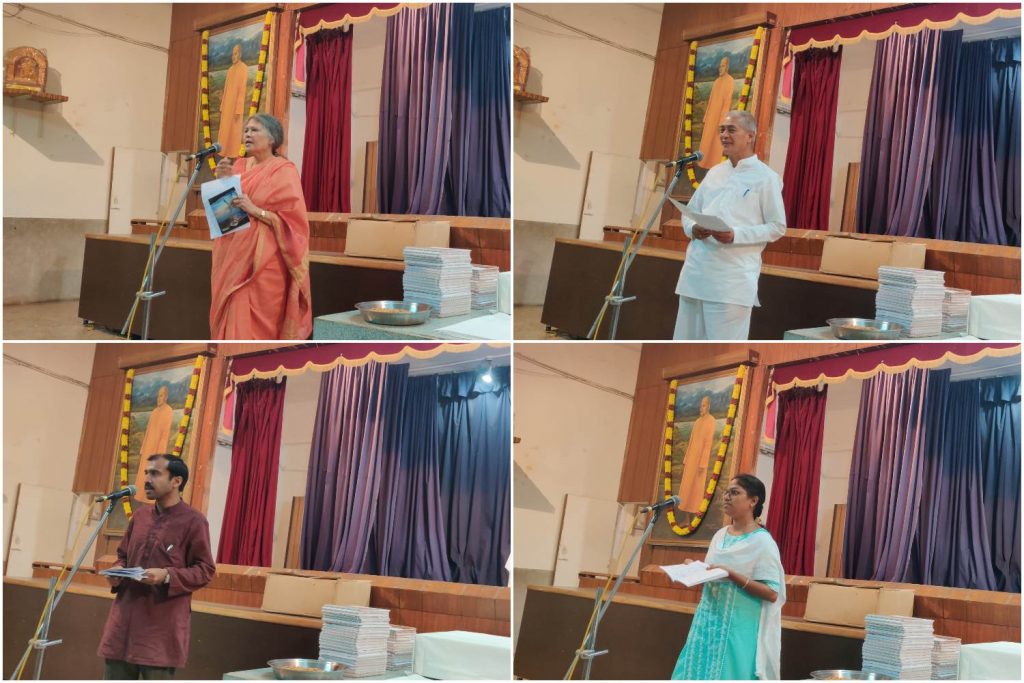 ---
Activities in Bengaluru during Jan 2021
Dated : 2021/01/01

---

Anniversary of Sripaadakshetra, J P Nagar
Sripaadakshetra, the South centre of Bengaluru was dedicated to society on 1st January, 2005 by Pujya Guruji, Swami Tejomayananda. The 16th anniversary of the centre was observed on 01/01/2021 with special puja, bhajans and Satsang by Pujya Swami Brahmananda. Pujya Swamiji stressed on the fact that having taken birth one cannot be afraid of death. Our ancient rishis understood this subtle truth and tried to transcend the fear of death which belongs to only the body. The body in reality is continuously undergoing death as it is born – Change is the changeless law – The understanding that 'I' residing in the ever changing body, mind and intellect uses the instruments to transact with the outer world but is really the eternal light enlivening the entire universe not belonging to the body is true knowledge. To such a person birth and death are just like shedding the old worn clothes and wearing new ones. He just witnesses the changes as just an attachment detachment programme. Samasara created due to ignorance can be removed only through Self knowledge.
The programme was attended by several members who braved the pandemic.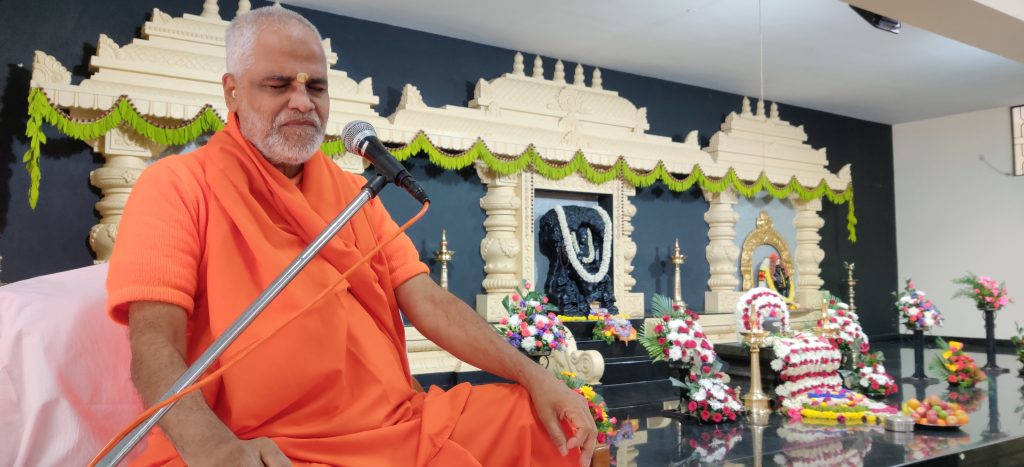 Satsang in Vijayanagar
Pujya Swami Brahmananda conducted a Satsang in Kannada at Chinmaya Mission, Vijayanagar centre on Sunday, 3rd January, 2021. The programme started with Vedic chanting, abhisheka, alankara and Aarati to the presiding deity, Lord Ganesha followed by bhajans and Pujya Swamiji's Satsang.
Pujya Swamiji explained in detail the various religious practices propounded by our elders for a meaningful and practical living. Many of the injunctions advocated by our elders have deep significance and it is better for us to implicitly follow them even if we do not understand their meaning as they are time tested proving beneficial in the long run. The universe is God's creation and only He can bring order to the seemingly chaos that we perceive. God's creation is always pure and full of compassion. It is the human beings who in their selfish interests have caused imbalance in nature. Instead of leaving a healthy and strong world for our future generation we have totally caused disruption creating a very weak and violent society that our children will be difficult to even comprehend. It is high time we stop playing with nature and become role models for our youngsters adhering to the various religious injunctions.
The programme was well attended by local members an devotees.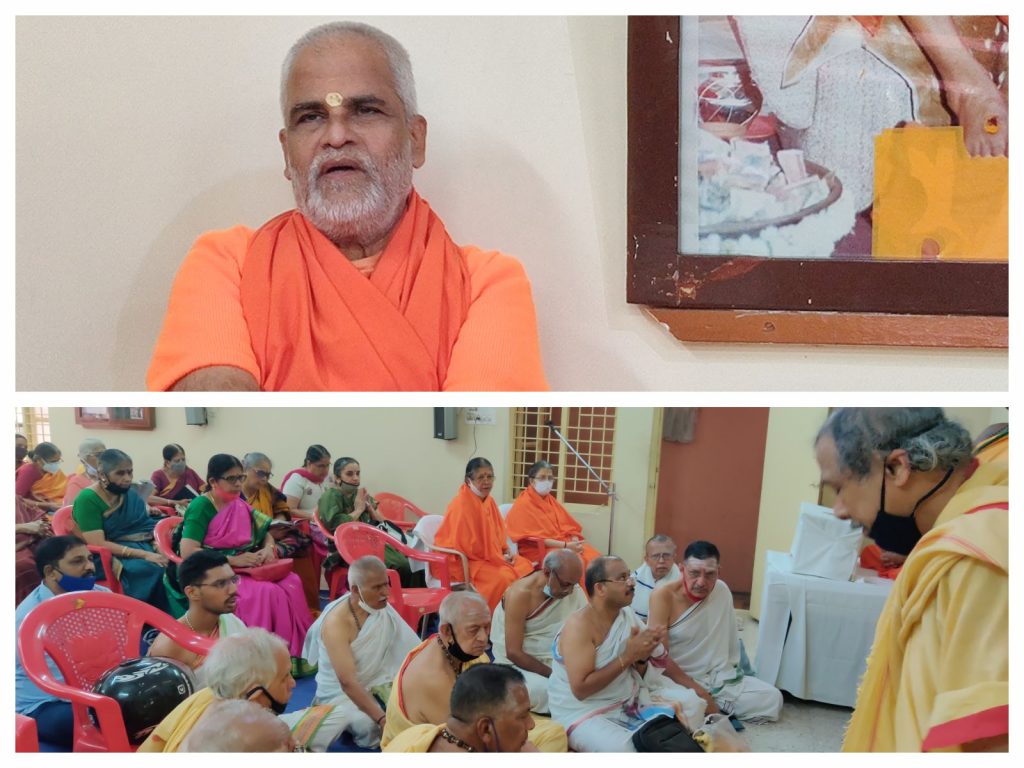 National Youth Day Celebration
National Youth Day coinciding with 159th birthday of Swami Vivekananda was observed in all centres across the country by Chinmaya Mission on three days – 10th, 11th and 12th January, 2021 with a variety of programmes consisting of talks, discussions, debates, interviews and skits. In Karnataka talks were organised on thought provoking subjects in Kannada and English by our Acharyas – Pujya Swami Gahanananda, Pujya Swami Dattapadananda, Pujya Swami Aparajitananda, Pujya Swamini Sampannananda, Pujya Swamini Kashikananda, Pujya Br Damodar Chaitanya and Pujya Br Avinash. Members of Chinmaya Yuva Kendra, Bengaluru presented a panel discussion on a very relevant topic – Who is favourable to you. Earlier Pujya Guruji Swami Tejomayananda gave the benediction while the Global Head, Pujya Swami Swaroopananda spoke on Gita, A Friend to Treasure.
The programme was streamed live on the Karnataka Youtube channel and was viewed by several youngsters and sadhaks who appreciated the choice of subjects and wonderful mind boggling concepts introduced by the Acharyas. The talks helped in motivating the youngsters to come out of the present situation and face the world with renewed courage and positive thinking. The Panel Discussion by the youngsters gave a deep insight into the problems of the present day youth and the possible solutions in overcoming them.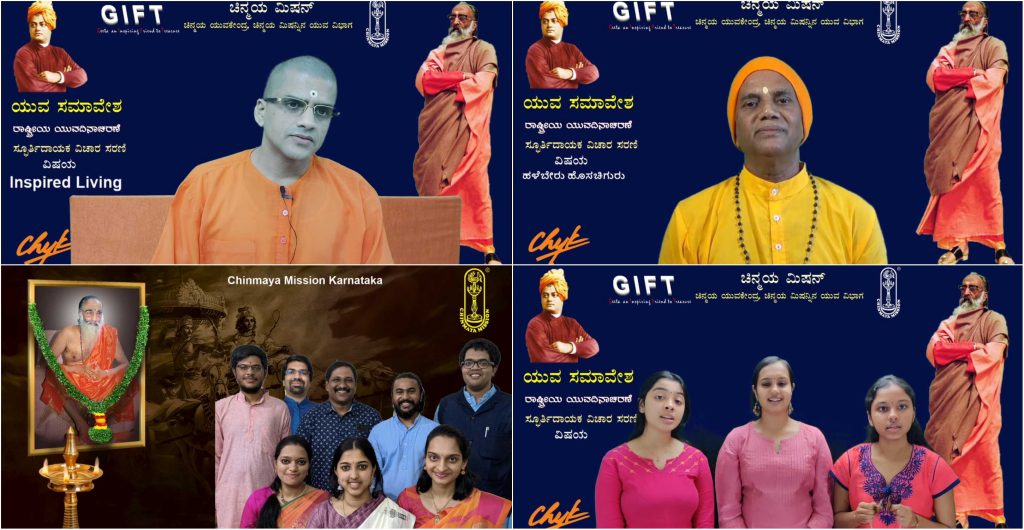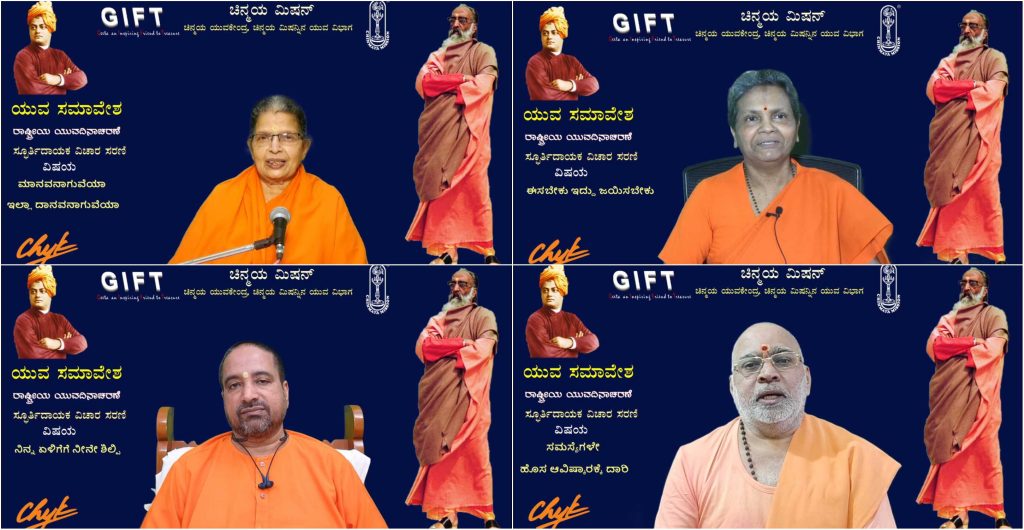 Online Jnana Yajna in January 2021
Pujya Swami Aparajitananda of Mangalore centre conducted online Jnana Yajna in English on Value of Values based on Bhagavad Gita Chapter – 13 from 24/01/2021 to 31/01/2021. Pujya Swamiji enumerated the twenty values appearing in verses 7 to 11 of chapter 13 stressing the importance that mere material and worldly education given in Universities will not be able to build a healthy strong society. The necessity of valuing the values understanding their importance assumes extreme significance today especially with the younger generation. Correct interpretation of values is very important as the path of karma is very subtle and difficult to understand. Pujya Swamiji took each value – Amanitva, Adambhitva, Ahimsa, etc., in great detail explaining their meaning, importance, application, modes of cultivating them along with exceptions supporting with examples, life of well known personalities and anecdotes from our epics. He stressed on the importance of accepting the significance of each value and sincerely trying to imbibe them in one's daily living.
The Yajna was viewed by hundreds of sadhaks.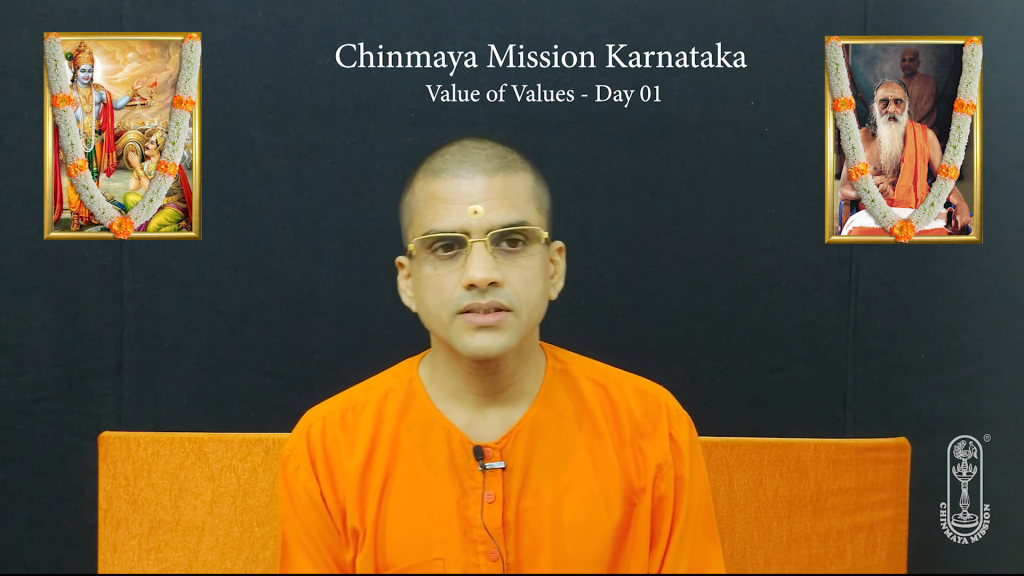 ---
Swami Yogasthananda attains Mahasamadhi
Dated : 2021/01/27

---

Swamins, Brahmacharins and Members of Chinmaya Mission Worldwide
Dear All,
Hari Om!
Swami Yogasthananda of Chinmaya Navin Sevashram, Prayagraj, took final refuge at the feet of Pujya Gurudev at approximately 1:00 PM yesterday, 27 January 2021, at age 88.
He had participated in Pujya Gurudev's camps and facilitated study groups for many years. He attended the Vedanta Course at Sandeepany Sadhanalaya, Mumbai, in 1989-1991, where he studied under Pujya Swami Purushottamananda. In 2011, he received Sannyasa Deeksha from Pujya Guruji Swami Tejomayananda.
Swami Yogasthananda had great commitment towards the activities of Central Chinmaya Vanaprastha Sansthan. He was also very dedicated to the practice and teaching of Yoga for more than 50 years. He taught more than 150 courses on Vanaprastha and Yoga, in over 60 towns and cities in India.
Swami Yogasthananda's tireless seva will continue to inspire those he came into contact with.
Our respectful homage to Swami Yogasthananda.
At His Feet,
Swami Swaroopananda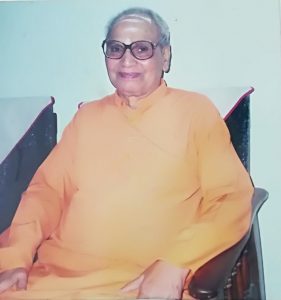 ---
Chinmaya Mission Madurai
Dated : 2021/01/05

---

22 chyks from Chinmaya Yuva Kendra Madurai conducted a relay yagna for 4 days on Hanuman Chalisa under the guidance of Swami Sivayogananda from 5th January to 8th January. It was very well received by the devotees.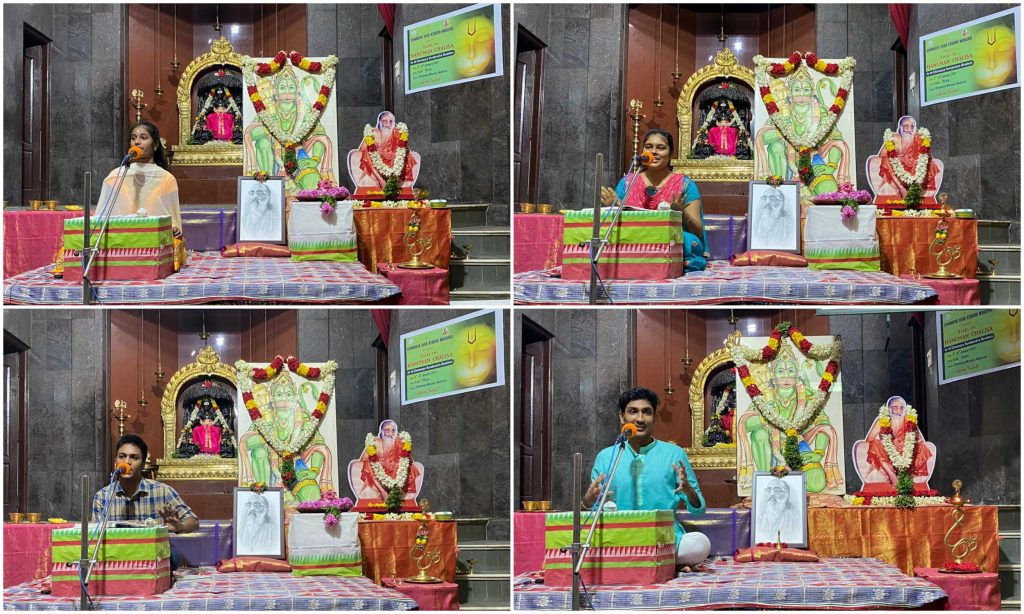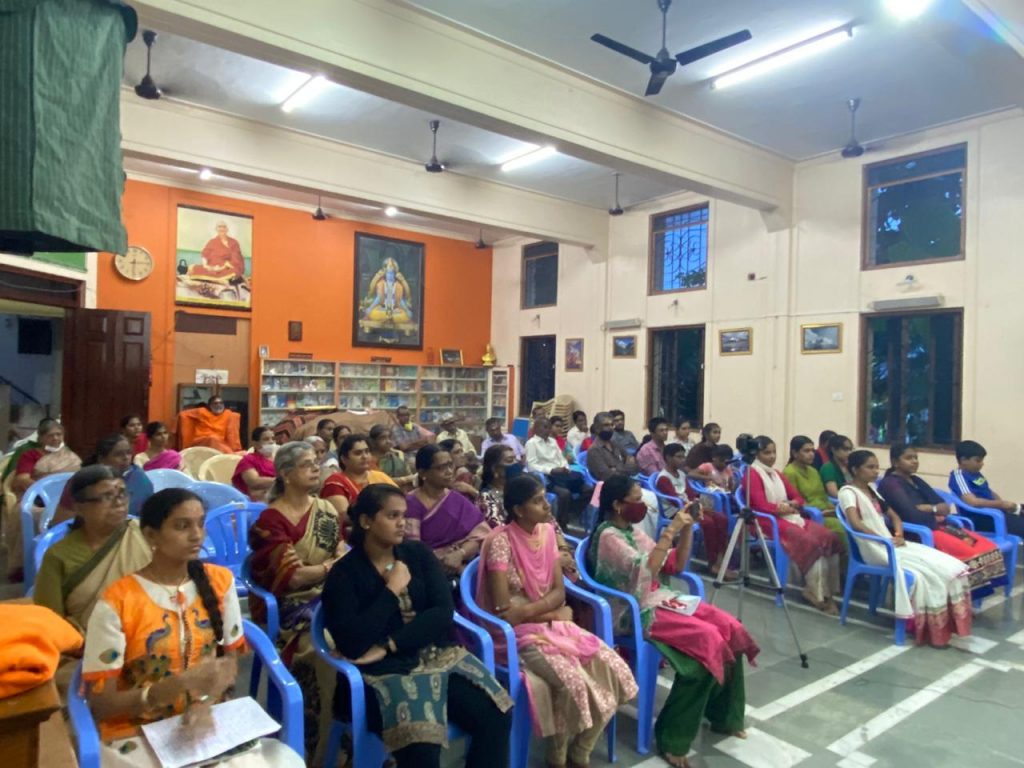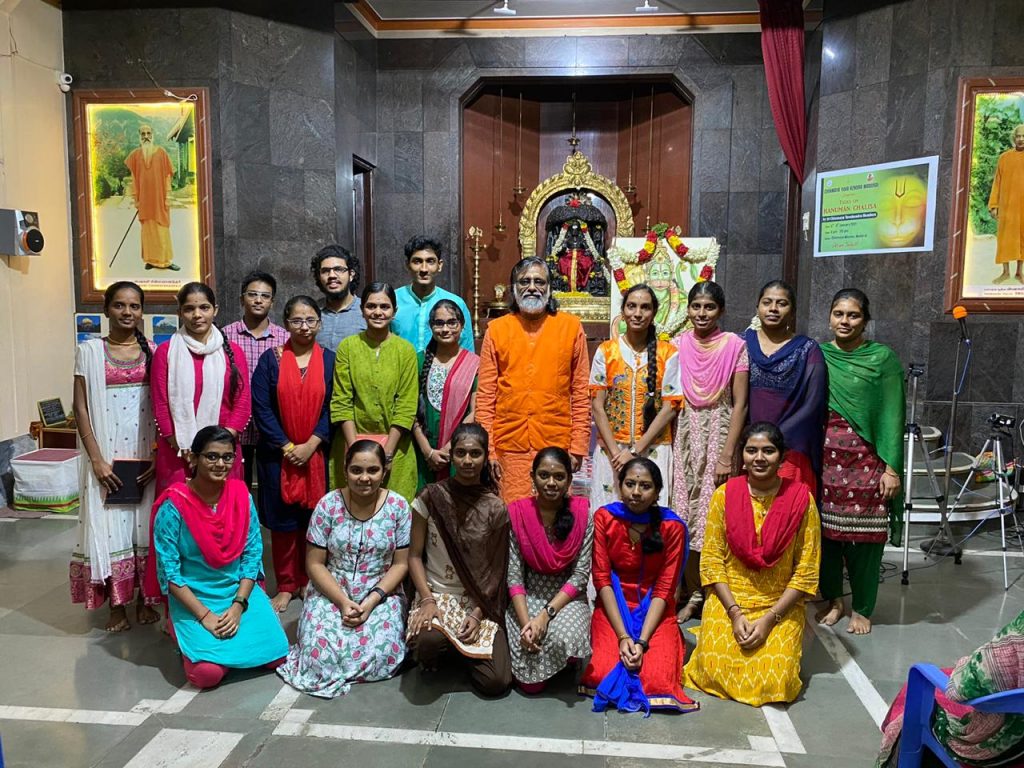 Chinmaya Seva Trust Madurai distributed Pongal Festival ingredients and provided Lunch for150 the families of 150 differently abled persons on 10.01.2021. Swami Sivayogananda blessed the gathering.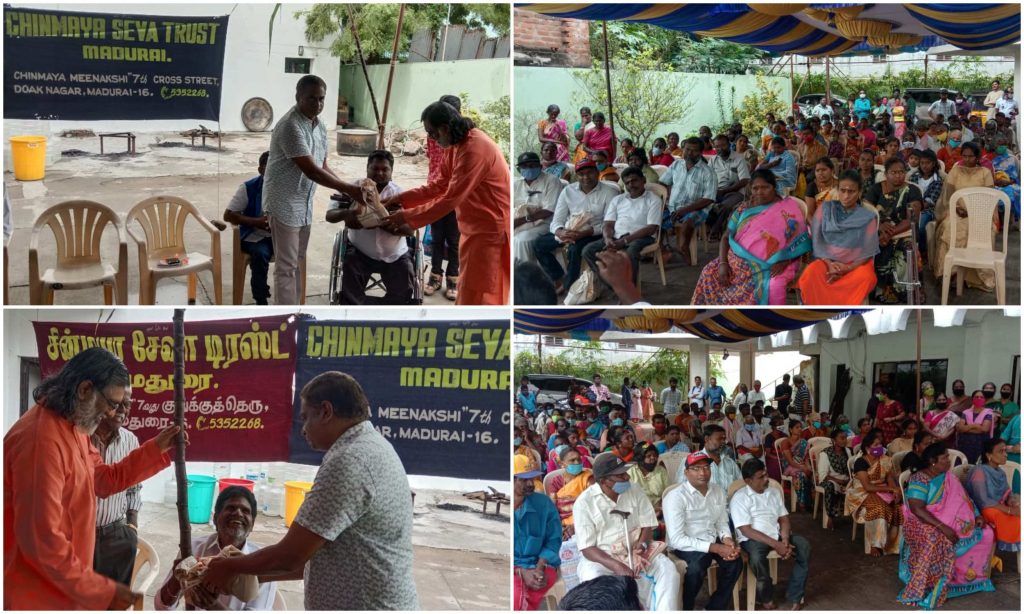 ---
Shraddhanjali to Shri Laju Chanrai
Dated : 2021/01/07

---

Hari Om!
With a heavy heart we inform you that Shri Laju Chanrai, a long-time devotee of Pujya Gurudev, attained His lotus feet in London this morning, Thursday 7 January 2021, at age 81. Lajuji has been a stalwart of Chinmaya Mission for decades. He will be remembered for his cheerful countenance and readiness to lend a hand wherever and whenever required. A storehouse of information, his sharp mind has helped to resolve many a complex issue.
To fulfil her request and to please his mother, Smt. Kamala Chanrai, Lajuji met Pujya Gurudev for the first time in 1965-66, at Mumbai. The rest is history.
Pujya Gurudev appointed Shri Laju Chanrai as Trustee on the Boards of Central Chinmaya Mission Trust (CCMT), Tara Cultural Trust (TCT) and Chinmaya Tapovan Trust (CTT). Later he served as Director on the Management Committee of Chinmaya International Residential School (CIRS) and a Trustee of Chinmaya Organization for Rural Development (CORD) and Chinmaya Vishwavidyapeeth. His contribution to Chinmaya Mission UK, Lagos and South Africa is a legacy he will be especially remembered for.
A hands-on person, always available, he was never found wanting in discharging the duties assigned to him. The Chanrai home played host to Pujya Gurudev many a time and his last stay at their home was in June 1993, at London. Lajuji's wife, Kavitaji, always willingly supported him in all his duties.
We offer prayers to grant strength to the family in this hour of loss. Lajuji's devotion and seva has been an inspiration to many of us and he remains now ever at the feet of Pujya Gurudev.
At His Feet,
Swami Swaroopananda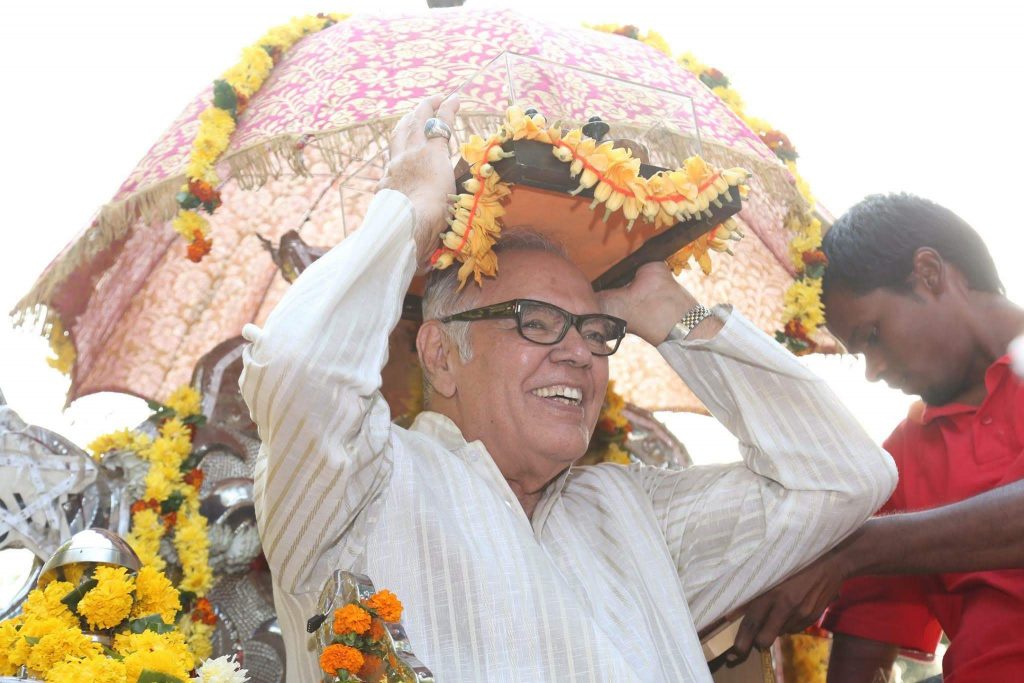 ---
Our homage and Reverential Pranaams to Swami Sundarananda
Dated : 2020/12/24

---

Dear All,
Hari Om!
Pujya Swami Sundarananda of Gangotri, the last living direct disciple of Param Pujya Swami Tapovanji Maharaj, attained Mahasamadhi in Dehradun last night.
🕉️ He will rest permanently at Tapovan Kuti in Gangotri, where he used to reside, amidst the glorious Himalayas he adored and beside his beloved Mother Ganga.
Born in April 1926 near Nellore, Andhra Pradesh, Swami Sundarananda is famous as the Himalayan photographer, who clicked lakhs of photographs capturing the grandeur of the Himalayas he loved to trek across.
On his own admission, he had lost count of the number of times he had trekked to Gomukh and Tapovan.
🪔 He climbed over 20 peaks above the height of 21,000 feet. An authority on Himalayan terrain, he showed the way to the Indian Army during the war.
Some of his prized photographs capturing the pristine beauty of his beloved Himalayas, are featured in his book, 'Himalayas – Through the Lens of a Sadhu'. The book carries an endorsement by Shri Atal Bihari Vajpayee, former Prime Minister of India.
🌻 A nature lover and keen environmentalist, Swami Sundarananda has worked to spread awareness of the deteriorating ecological conditions in the mountains over the last several years, with special focus on the source of Mother Ganga.
🕉️ Our homage and reverential pranams to Swami Sundarananda, the loving devotee of Param Pujya Swami Tapovanji Maharaj.
At His Feet,
Swami Swaroopananda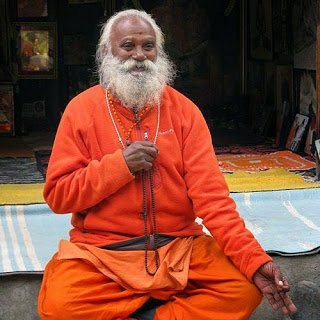 ---
Activities in Bengaluru Nov 2020
Dated : 2020/11/01

---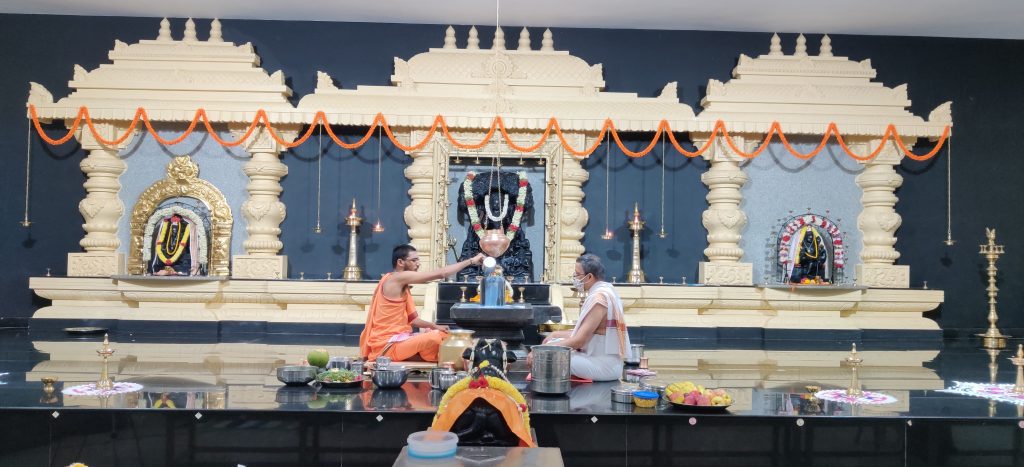 On Line Gita Jnana Yajna
Pujya Swami Krutatmananda of Hubballi and Dharwad centres conducted on line Gita Jnana Yajna in Kannada from 1/11/2020 to 8/11/2020 on Bhagavad Gita Chapter – 3. Pujya Swamiji beautifully explained how it is important not to abdicate action in the name of renunciation but to perform action with a selfless attitude and cooperative spirit. What is important is to understand the fact that it is impossible to stay away from action and perform all actions sincerely with dedication without expecting any result but develop an attitude to accept what comes with humility and gratitude. It is also very important to lead life in a give and take policy that can inspire the next generation to follow and experience a peaceful and meaningful life. All realised Masters have lived such a life with complete control of their senses – thought, word and deed demonstrating that leading such a detached but active life is actually possible.
The Yajna was well viewed by hundreds of sadhaks.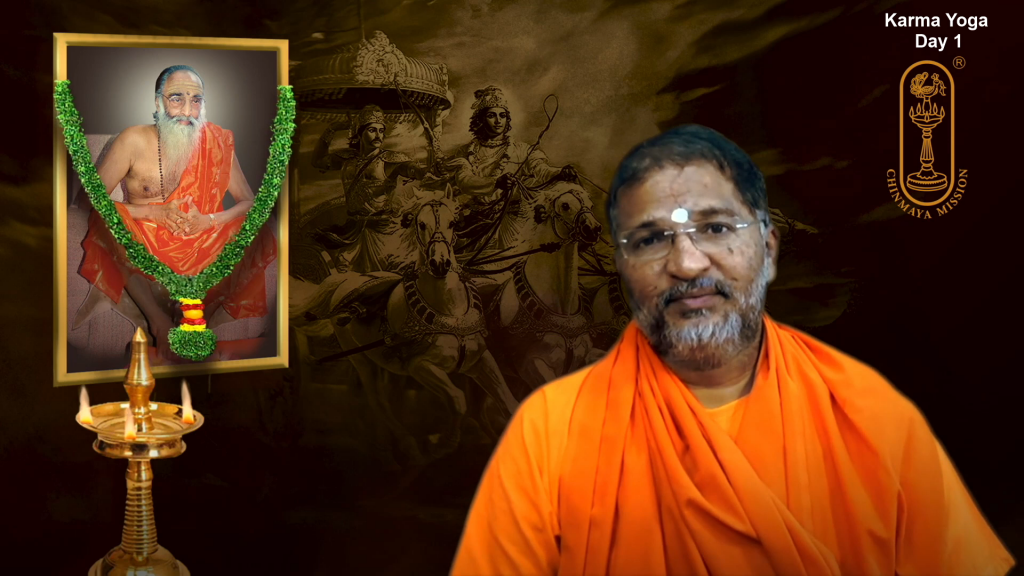 Kartika Masa Celebrations
Kartika Masa celebrations commenced from 13th November, 2020 – Deepavali with the usual religious fervor in Sripaadakshetra, J P Nagar with daily lighting of the temple complex and special puja to Lord Shiva. Special Rudrabhisheka, alankara and seva were performed on Mondays with devotional songs in the evening. The pandemic situation no doubt deterred the regular devotees who would come in large numbers but online viewing of the puja every day was viewed by thousands. Quite a number of devotees did visit the temple and participated in the celebrations that had the same glamour of previous years. The celebrations will end on the 14th December, 2020 – last Monday of Kartika Masa.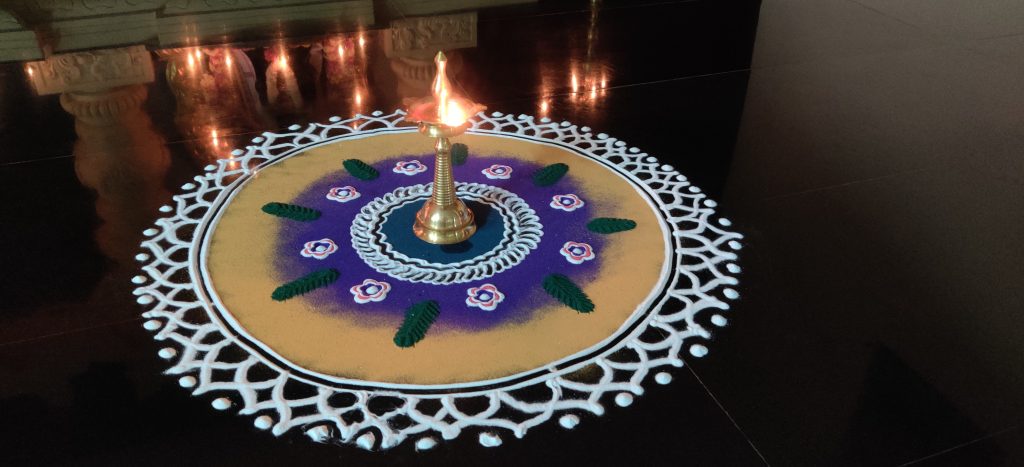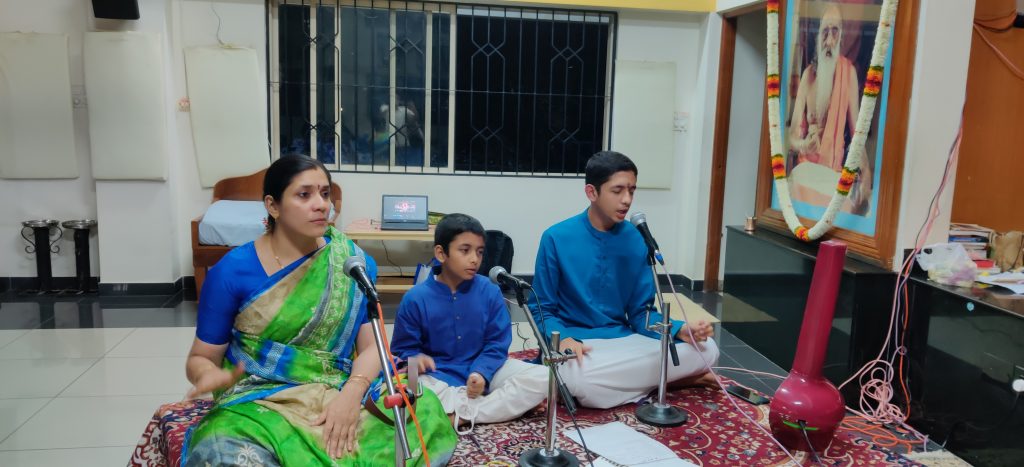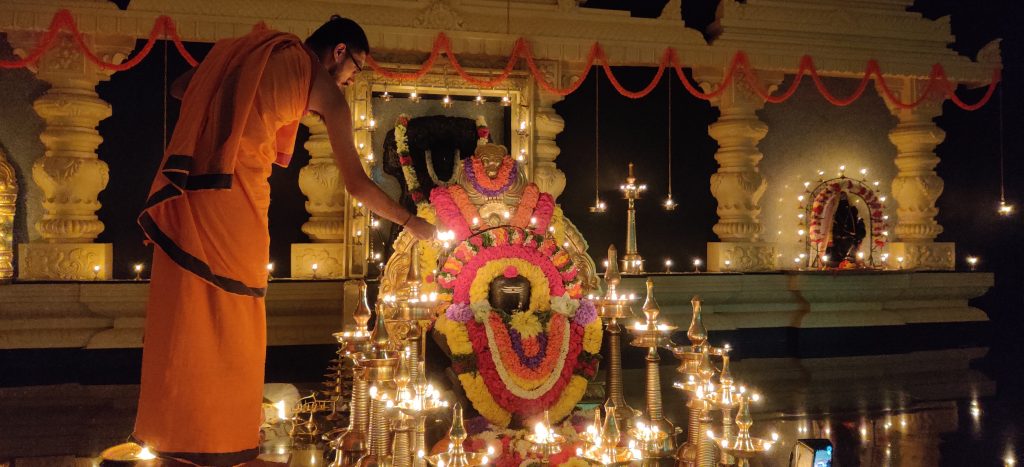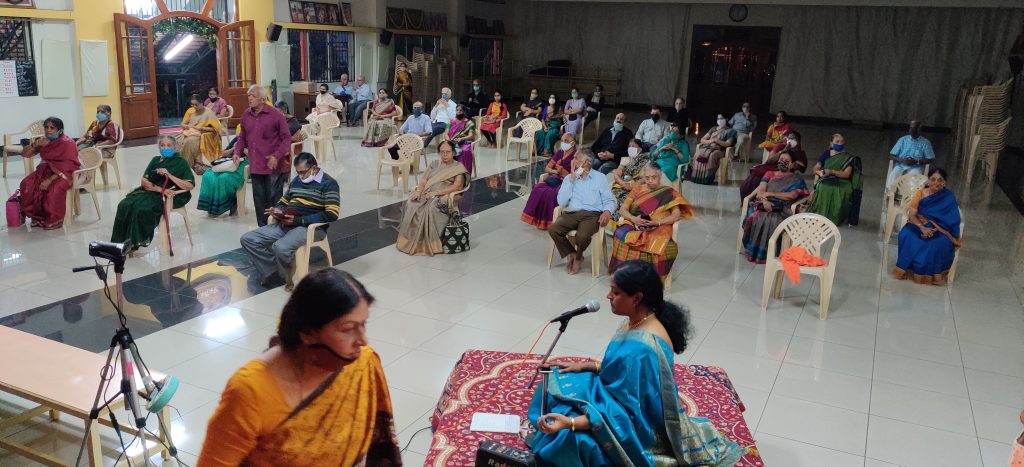 ---